Perfect Soft Boiled Eggs with Butter and Truffle Salt – Low Carb Keto Perfection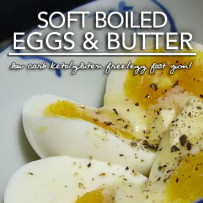 You might laugh at a recipe for soft boiled eggs, but how many people can actually "make" a soft boiled egg and do it consistently deliciously? Eggs are a near-perfect low carb keto food, having a beautiful keto ratio of protein to fat. Add a little butter? And they become a LCHFer's dream meal or dream ingredient. Learn how Fluffy Chix Cook consistently good soft boiled eggs for your low carb ketogenic diet. By the way, this is a perfect meal if you are doing the Egg Fast.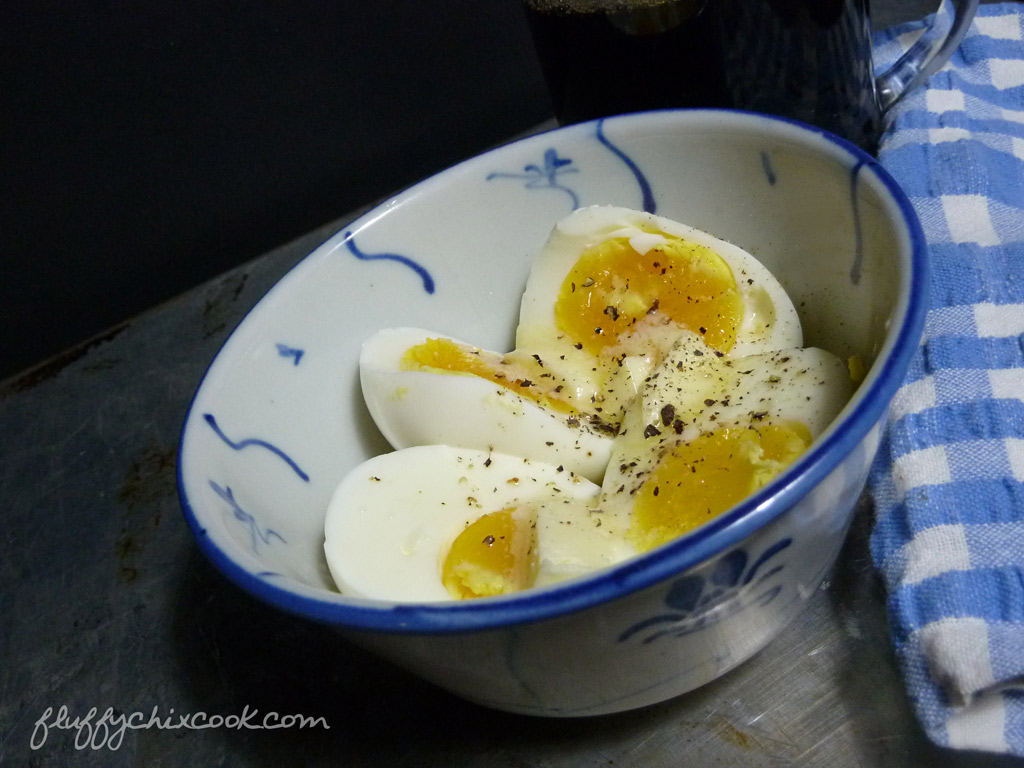 I know you, you're going to ask me next if I plan on giving you the recipe for boiling water. But you would be surprised at the number of people for whom perfect soft-boiled egg perfection eludes them, or who are completely clueless about how to even begin.
I've no idea if this is the legitimate method for soft-boiling eggs. I never googled it or looked it up in my JOY OF COOKING 1964 version. Although, true story…my brother-in-law found my hand-written recipe journal years ago and without my knowledge, turned to the center of the book and a blank page and inserted one of 6 recipes in his repertoire: soft-boiled eggs. It was years before I happened to thumb through the journal and found his recipe for pure gold! LOL. Seriously. Laughing right now!
The secret to soft boiling eggs is having a timer and knowing how hot your stove cooks. You also need to know your preference. Do you LOVE runny yolks to the point that you will suffer the occasional semi-liquid white at the border of white and yolk? Or do you get fairly grossed out by runny whites (as we do), and are willing to suffer a firmer "medium" soft yolk as a compromise? These are IMPORTANT issues to work out before even beginning to soft boil!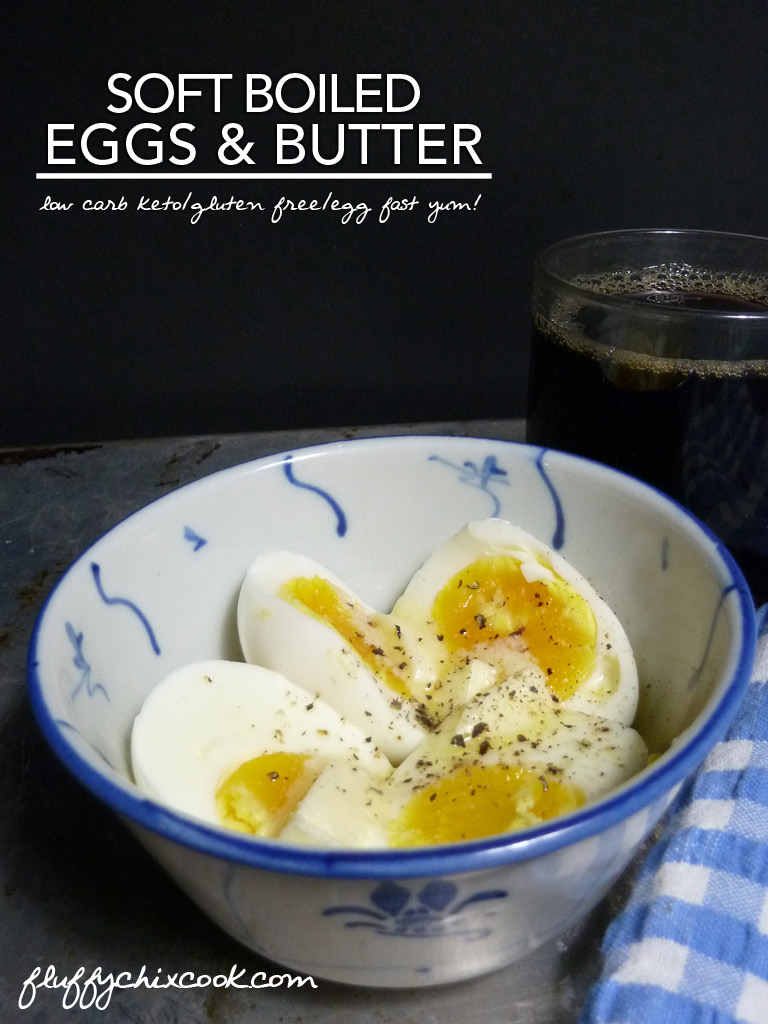 The other secret to soft boiling is having your water at a gentle simmer prior to immersing the eggs into the water and beginning timing. Otherwise, there are just too many variables: how cold was the water, how long will the water take to come to a simmer or gentle rolling boil? How cold are the eggs? I always start with eggs straight from the fridge (probably a no-no and a bit of devil-may-care, but that's how I roll). Let the water come to temp and boil, then submerse the egg and start the timer. Have a spoon ready for scooping the eggs out of the water, because soft boiled eggs wait for no cook. Have your butter ready and seasonings at hand. Fluffy Chix Cook's perfect soft boiled egg happens between 6 minutes and 6 minutes-45 seconds. I kid you not. I "cain't" make this stuff up!
By adding the eggs after the water is gently simmering, you have more control over timing. Set the timer for 6 minutes. When it goes off, take the pan, zoom to the sink and start running cold water onto them to stop the cooking. Remove the egg with a spoon and run it under the cold water. Start peeling. Dry the egg and set in the dish. Repeat with remaining eggs. Work quickly. Speed is your ally. Get the butter ready! Have it pre-sliced. Split the eggs and plop in the butter and season. Eat immediately. No dilly-dallying or lollygagging!
We LOVE truffle salt and freshly ground black pepper with heaps of unsalted, grass fed butter. Our go-to soft boiled egg accoutrement? Well we all know and love Kerrygold Butter, but the truffle salt can be a little tricky to find, and fresh ground (yes it must be fresh ground) black pepper is a MUST. We love the kind of truffle salt with the actual truffle grated into the kosher or sea salt, and found a brand we highly recommend, Sabatino Tartufi Truffle & Salt (3.4oz jar). It's expensive, sure, but so are truffles; and a little goes a LONG way. It's just delicious on so many things like eggs, in sauces, on salads and especially pasta, even low-carb pasta! Our latest bottle has lasted 3 months and we have about 3/4 of it left to use. Lucky Fluffys!
Soft boiled eggs are perfect at any meal. Although traditionally a breakfast food, they make a quick, killer, light dinner with a lovely mixed greens salad and House Vinaigrette, and with Asparagus in Brown Butter or Ghee? Fohgeddaboudit! And if you have an upset tummy? Soft boiled eggs and butter are the ticket to cure it. We hope you will try the Fluffy Chix Cook method and let us know how they turned out!
(Photo Disclaimer: The yolks in the pictures shown in this post are more toward 7 minute soft boiled eggs. It's hell to be the 2nd person getting their eggs in the morning and then having to "suffer the cross" of taking photos before enjoying soft boiled eggs! It means Denny's are always perfect and mine, just shy of being over-cooked. Oh, woe is me. 😉 )
Don't forget to check out Fluffy Chix Cook's convenient Recipe Index!
Perfect Soft Boiled Eggs with Butter and Truffle Salt – Low Carb Keto Perfection
Perfect soft boiled eggs with butter are a simple and perfect low carb keto protein source for any meal. Great when your tummy is upset!
Ingredients
1 quart water
2 large eggs, cold from the fridge
2 tablespoons unsalted grass fed butter (Kerrygold)
Instructions
In a small saucepan over high heat, bring 1 to 1 1/2 quarts of water to a soft, gentle boil (about 8 minutes). Reduce heat to medium and using a spoon, place eggs into water.
Set timer for 6 minutes.
When timer sounds, place pan under cold running water. Use a spoon to scoop out and egg and run it under the water while quickly peeling. Dry egg with paper towel and place into bowl. Repeat with remaining egg.
Split eggs open with a knife. Top with butter, truffle salt and fresh ground pepper. Enjoy.
Notes
Never underestimate the power of silky egg yolks and gently firm whites with heaps of grass fed butter, truffle salt and fresh ground black pepper. Embrace simplicity.
Serving Ideas Serve alone in an Egg Fast, or pair with a simple green salad and House Vinaigrette, or which sautéed spinach & garlic or asparagus & ghee or browned butter.
Nutritional Information
Per Serving: 351 Calories; 33g Fat (84.5% cals from fat); 13g Protein; 1g Carbohydrate; 0g Fiber; 1g Effective Carbs
Copyright © 2010 Fluffy Chix Cook. All rights reserved.
http://fluffychixcook.com/perfect-soft-boiled-eggs-with-butter-and-truffle-salt-low-carb-keto-perfection/
Copyright © 2016 Fluffy Chix Cook. All rights reserved.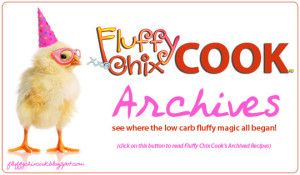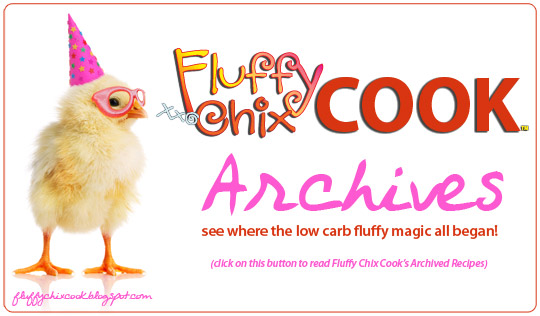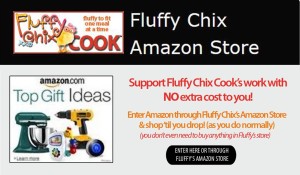 Copyright © 2010 Fluffy Chix Cook. All rights reserved.
We are not dieticians, nutritionists or medical professionals. The materials on this blog are for informational (and fun) purposes only. We do not fact check, nor do we worry about sources. Please do your own fact checking. We encourage you to look things up and check with your doctor or health care professional before acting on anything seen on Fluffy Chix Cook. xoxo