Porktacular Garlic Croutons-Put Low Carb Keto Joy Back in Your Salad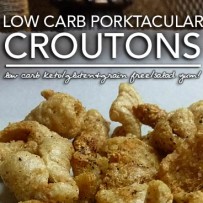 Spring approaches and Salad Season looms! It's time to break out the salad dressing, crisp greens, and raw veggies and let your bikini freak flag fly! But dangit! Where is the REAL crunch? Do you miss the bold crunch of croutons on your salad? We did too, but not any longer. Do you want seriously delicious and simple low carb croutons?! We did too! Until now…Join us to find out how Fluffy Chix Cook cracked the low carb crouton code to put crunch back in your salad!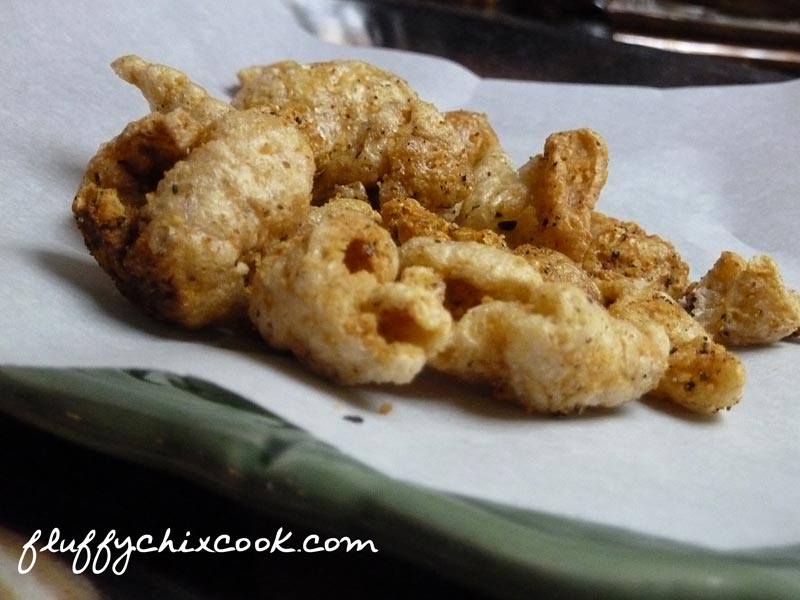 Fluffy Chix are constantly on the lookout for Easy Button, truly simple recipes to make our low carb keto life (and yours) extra easy. Don't get us wrong, we love cooking and spending time in the kitchen—when we have the time and energy! For that other 90% of the time, we rely on implementing cunning plans of mental and culinary superiority! hehe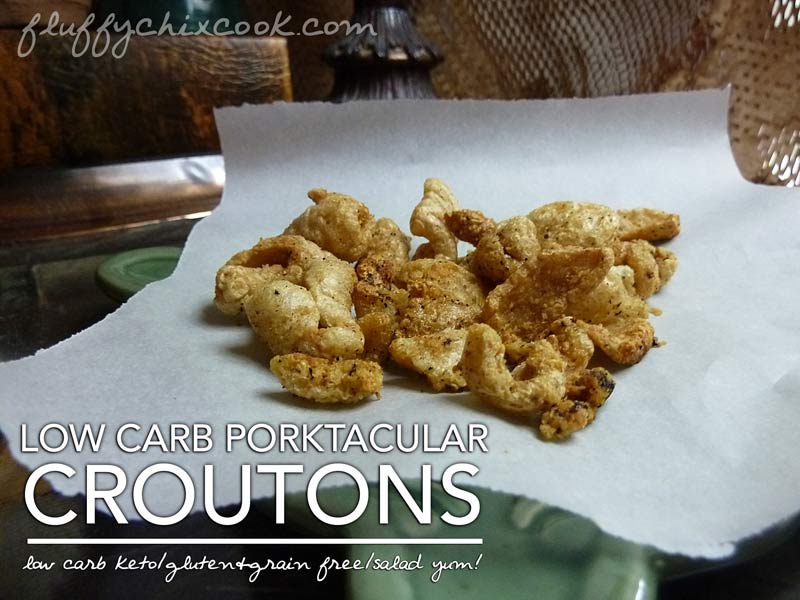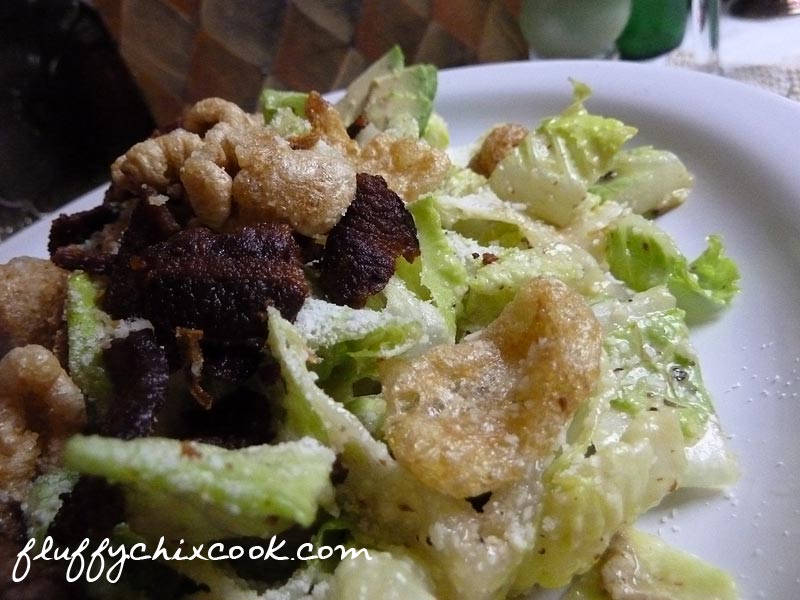 In other words we love working smarter, not harder. And Porktacular Croutons represent just such a recipe. Pork skins have the convenience factor of a store bought French baguette with none of the carbs (assuming you use unflavored pork skins with only 2 ingredients on the label: pork and salt). We love that in order to have croutons for a quick Table Side Caesar, making low carb crunchy croutons is no more difficult than in our former high carb glory days. Yeehaw!!! We don't have to make low carb biscuits or bread first. We don't even have to chop up the low carb biscuits or bread! All we have to do is pick through a few skins to find the smallest pork skins, or break the big ones up into crouton sized pieces. Simple!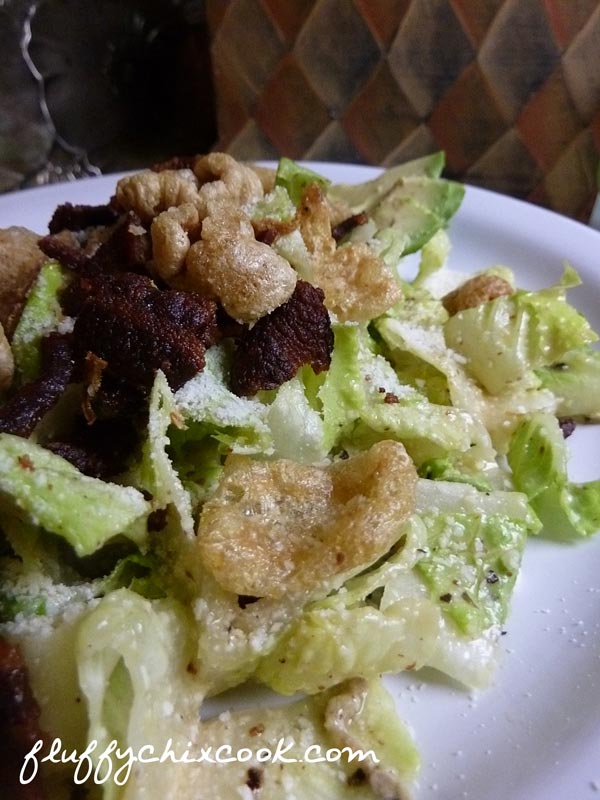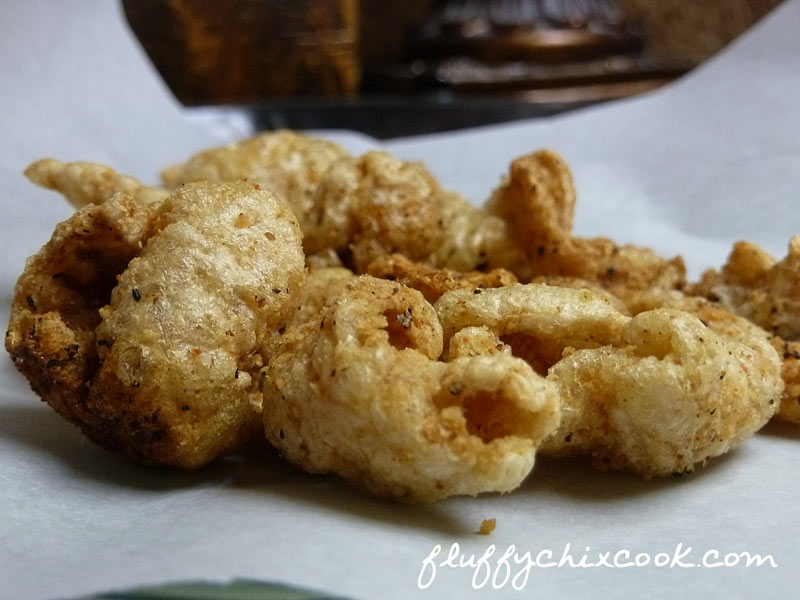 Then we proceed with the crouton recipe which is the Fluffys' TNT crouton technique from the old life. And ba-bam baby! Crunchy, salty, garlicky croutons that add pizzazz to any salad. But psssst, they are impossibly delish with our Caesar. (That's the next recipe in the line up.) Please come back and let us know how you liked them by dropping a comment below? MUAH!
You might enjoy one of these Fluffy Salads:
Porktacular Garlic Croutons
How many times do you miss CRUNCH--TRUE crunch in your salad? We missed it too until discovering this quick and simple recipe for salad happiness!
Ingredients
Instructions
Pick out the smallest pork skins in the bag. UTZ pork skins are the best for having smaller pieces!
Heat olive oil and sliced garlic clove in a small nonstick, oven safe, skillet over medium high heat. When garlic JUST begins to turn golden, remove and reserve. Tump pork skins into hot oil. Remove from heat. Add granulated garlic, kosher salt, and freshly ground black pepper. Keep tossing the oil and pork skins to get them to absorb as much oil as possible. Finish for 3-4 minutes in a preheated 350° oven until pork rinds are very crispy. Remove from heat, add the garlic slivers back to the skins, and serve immediately on top of salads or soups.
Notes
We make regular, low carb keto croutons out of many recipes: Fluffy Induction Biscuits, Mile High Keto Biscuits, Mile High English Muffins, Induction Cornbread--and they rock! Don't get us wrong. But sometimes we don't want to make our biscuits or bread first! That's when the convenience of these Low Carb Croutons comes in handy. Do they still have some porktacular flavor? A little bit. Are they uber crunchy and filled with beautiful crunchy, toasted garlic flavor? You betcha!
Serving Ideas Serve on top of your favorite salad or soup to add that big, beautiful, garlicky crunch factor.
Nutritional Information per 1/4 ounce serving 71 Calories; 6g Fat (77.6% calories from fat); 4g Protein; 0.25g Carbohydrate; trace Dietary Fiber; 0.25g Effective Carbs
per 1/2 ounce serving 143 Calories; 12g Fat (77.6% calories from fat); 7g Protein; 0.5g Carbohydrate; trace Dietary Fiber; 0.5g Effective Carbs
per 1 ounce serving 286 Calories; 24g Fat (77.6% calories from fat); 14g Protein; 1g Carbohydrate; trace Dietary Fiber; 1g Effective Carbs
Copyright © 2013 Fluffy Chix Cook. All rights reserved.
http://fluffychixcook.com/porktacular-garlic-croutons-put-low-carb-keto-joy-back-in-your-salad/
Copyright © 2016 Fluffy Chix Cook. All rights reserved.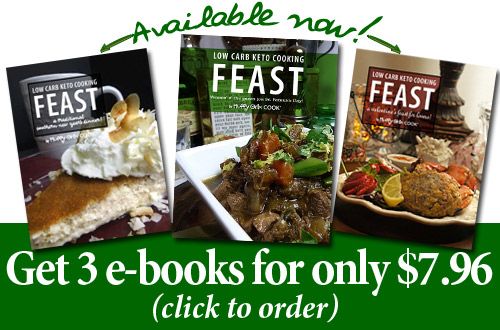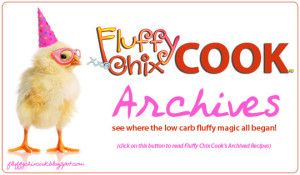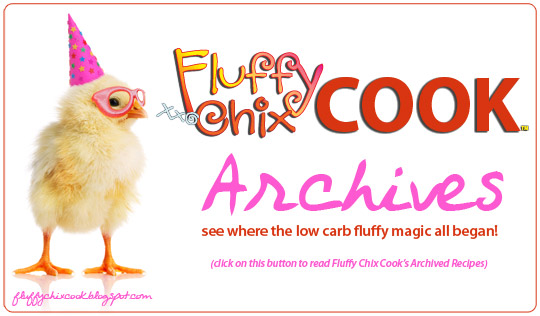 Copyright © 2014 Fluffy Chix Cook. All rights reserved.
We are not dieticians, nutritionists or medical professionals. The materials on this blog are for informational (and fun) purposes only. We do not fact check, nor do we worry about sources. Please do your own fact checking. We encourage you to look things up and check with your doctor or health care professional before acting on anything seen on Fluffy Chix Cook. xoxo