Quick BBQ Sloppy Joes – Low Carb|Gluten Free
Do you miss sandwiches and constantly look for low carb sandwich options? Sandwiches are just so quick and easy. When you need an "easy button" for a quick meal, leftover Skillet Beef mixes with a super simple barbecue sloppy joe sauce, producing a hearty and bold, sugar free, gluten free, low carb sandwich in less than 10 minutes. And for all the diabetics out there, it won't spike your blood sugar or insulin, either.
Remember our Basic Revolution-ary Rolls? With those premade in the fridge of freezer, quick low carb keto meals are no longer a dream. The low carb buns open the door to all types of sandwiches—hot, cold, grilled. One of our favorite quick low carb meals is the Quick BBQ Sloppy Joe. We love adding the barbeque sauce for a smoky hit of flavor that blends well with the tangy sweetness. As you eat it, it's hard to believe it's totally keto friendly!
One of the hardest parts about switching to a low carb lifestyle is breaking-up with familiar or habitual foods. By habitual, I'm talking about foods associated with a style of eating (i.e. Picking a sandwich up; picking up a piece of pizza, holding a burrito or taco in your hands; cutting a hamburger in two and picking up each half to eat it; dipping toast in a creamy egg yolk). Sure, quick and easy low carb meals abound, but you usually end up eating them with a fork and knife, or spoon. Some like to "cold turkey" and break habits. But I feel that it's unrealistic. Denial is not a river in Egypt and will only get you as far as the scene of the crash, or so Ron White assures us. You can deny yourself anything for a brief moment in time, but looking at spending a lifetime in the absence of lifelong habits opens the door for deprivation. If you integrate new low carb foods into established food habits, then in our opinion, you're one step closer to transforming a keto diet into a keto lifestyle. Absolutely no deprivation required!
A Word About Walden Farms
Why are we using Walden Farms Products? People either love or hate Walden Farms products—and we readily admit some are better than others, capable of using as "stand-alone" bottle sauces, syrups and dressings. But the real value of Walden Farms sauces, syrups and dressings is they make great volume extenders for practically zero calories or carbs. The ingredients are less egregious than some other sugar alcohol-laden products—which tends to appeal more to us. Just remember, we're not purists. We can easily make a delicious low carb barbecue sauce, but our BBQ sauce has more carbs and when you're trying to adhere to 20g of whole carbs…well, you get the picture. If you don't care for WF alone, try blending them with other sauces, spices, vinegars, and mustards.
The use of Fluffy Chix Cook Revolution-ary Rolls brings bread, finger or hand food and convenience back to the low carb keto lifestyle. Can you imagine eating a low carb sloppy joe with your hands?For a crunch-tastic experience, adding a scoop of "instant" coleslaw gives crunch and a creamy tang. Using Fluffy Chix Cook's Creamy Ranch with prepared coleslaw mix makes the salad prep even easier. (We do admit using fresh cabbage tastes better and probably has better nutrient content, but hey—if you don't have the time or inclination…options exist. That's all we're sayin'.)
Try it and let us know. I bet you'll say it's the best 5 minute BBQ Sloppy Joe you've ever eaten!
Quick BBQ Sloppy Joes – Low Carb|Gluten Free
Quick Sloppy Joe takes full advantage of Lucky Leftovers. Avoid diet fatigue or boredom. Never eat the same thing twice--unless you LURVE something! And we won't lie to you. These are so good, we always double the recipe to have "Super Lucky Leftovers!"
Ingredients
Instructions
Microwave Method:

Combine sauce ingredients in a microwaveable bowl (a cereal bowl works great). Cover with a saucer and nuke on high for 30 seconds. Stir and nuke for an additional 15 seconds. Stir. Add Skillet Beef. Stir to combine. Heat for 30 seconds until beef becomes hot.

Skillet Method:

Combine sauce ingredients in a nonstick skillet over medium high heat. Cook about 3-4 minutes until bubbly and thick. Add Skillet Beef and stir with a spatula until evenly coated and combined. Heat another minute or two until piping hot. Serve immediately.
Slice a Revolutionary Roll into 2 pieces, horizontally (to have a top and a bottom). Spoon in Quick Sloppy Joe and eat. You can also pop a tablespoon of butter into a nonstick skillet over medium high heat and toast the insides of the roll prior to filling with the Sloppy Joe mixture. It will add a couple minutes of prep time and also add to the nutritional totals. So if you track that stuff, make sure to add the butter into your totals.
Notes
I'm going to say it again. Lucky Leftovers are a dieter's best friend. This recipe literally takes less than 5 minutes to make when you have the beef mixture ready in the fridge or portioned and frozen. Feel free to double, triple, or even quadruple the recipe. The cooking time will be a little more and if I were making it for the family, I would likely use a nonstick skillet on the stove top instead of the microwave. But you're the boss!
You can also make the BBQ Sloppy Joe Sauce and keep it on hand. It will store in the fridge up to 1 week or freeze and reheat like a champ, up to 3 months.
Serving Ideas Serve with your favorite salad or coleslaw. Add the coleslaw to your sandwich for added punch and crunch!
Nutritional Information
Sloppy Joe Sauce: 19 Calories; trace Fat (11.9% calories from fat); trace Protein; 3g Carbohydrate; trace Dietary Fiber; 0mg Cholesterol; 3g Effective Carbs
Sloppy Joe Mixture: 485 Calories; 35g Fat (67.6% calories from fat); 31g Protein; 7g Carbohydrate; 1g Dietary Fiber; 128mg Cholesterol; 6g Effective Carbs
Sloppy Joe Sandwich (doesn't include coleslaw): 620 Calories; 46g Fat (68.2% calories from fat); 40g Protein; 8g Carbohydrate; 1g Dietary Fiber; 292mg Cholesterol; 7g Effective Carbs
Copyright © 2010 Fluffy Chix Cook. All rights reserved.
http://fluffychixcook.com/quick-bbq-sloppy-joes-low-carbgluten-free/
Copyright © 2016 Fluffy Chix Cook. All rights reserved.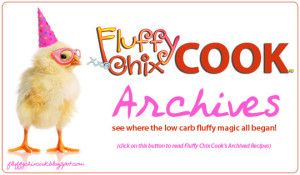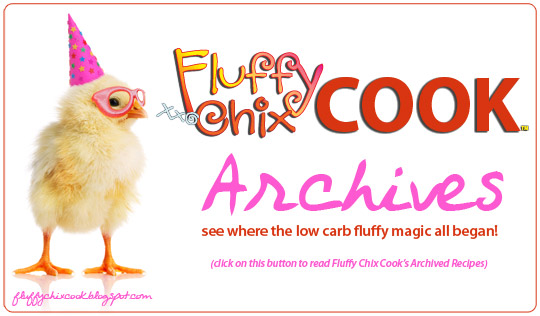 Copyright © 2010 Fluffy Chix Cook. All rights reserved.
We are not dieticians, nutritionists or medical professionals. The materials on this blog are for informational (and fun) purposes only. We do not fact check, nor do we worry about sources. Please do your own fact checking. We encourage you to look things up and check with your doctor or health care professional before acting on anything seen on Fluffy Chix Cook. xoxo