Skillet Beef – Low Carb Gluten Free Staple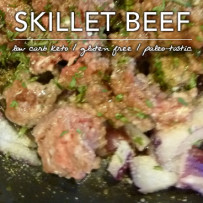 If you're looking for a low carb, gluten free staple that's a "MUST HAVE" for the freezer portion of the pantry, Skillet Beef, by Susie T. Gibbs is your go-to low carb recipe. It's a foundation recipe for protein that's capable of morphing to fit any recipe style or cuisine. Properly portioned, complex meals come together in minutes using Skillet Beef. Want Tex-Mex? No problem, keto-licious skillet beef turns into taco meat, or enchilada or chile relleno filling. Want Italian? Poof! In seconds, you have a gorgeous meat sauce or quick Bolognese. This versatile low carb foundation recipe makes a perfect, diabetic friendly staple for any kitchen, especially when convenience and quickly cooked recipes are important.
Fluffy Chix Cook knows simple is best. Simple puts meals on the table in minutes. Quickly grilled chicken breasts or thighs and steamed broccoli, along with a simple handful of romaine lettuce with Creamy Ranch can be made in 15 minutes or less—now that's simple! And on weeknights, fast and easy low carb is the way to go. But what happens if you hanker for something more complex? What happens if you get tired of your "Easy Button" and want something luscious and more-ish? (Hehe. Moreish…thank you Jamie Oliver for lending this term to us. It's a great term to describe the feeling of comforty-ness that a dish can bring to you, beyond the simple savory, sweet, umami descriptions. Moreish is childhood, a mama's hug, a feeling that all-is-well. Moreish is a replete belleh and satisfied tastes buds—rich, full-bodied, packed with flavor.)
Well, having low carb keto "bases," or staple dishes, prepared and packaged, B/T (bag & tag), and ready in the fridge or freezer makes short work of complex, moreish, low carb meals. Bases simplifies "complex" and gives an entire new category to include on the Easy Button. Bases reduce a complex recipe from one involving cooking to one that becomes "some assembly required." For instance, with Skillet Beef, Fluffy Chix Cook's Low Carb Enchilada Sauce Base (coming soon), and Psylli Wraps on hand in the freezer, we can pull out a package of each and have beef enchiladas on the table in under 15 minutes and that includes making a side salad! Voila! And Olé! Completely low carb keto friendly, a-ok, diabetic friendly and Easy Button-compatible, too. And completely…moreish!
You'll think there's nothing to this Skillet Beef aka Meat Base 1. You're right. It's easy, a no-brainer. But the trick is keeping the flavors neutral so that Skillet Beef can work with any and every cuisine. We carefully selected each of the herbs and spices in the keto base to make it taste delicious alone, or bombastically great when combined with other things to make new dishes. Fluffy Chix Cook could literally Bubba Gump (come up with a different way) the hayull (Texan for heck-fire) and re-make this Skillet Beef into something new—every day. Our motto, "Never eat the same thing twice…unless that's how you roll." (Psssst, I once ate Creamy Alfredo Beef with Zoodles every day for a week. Yes, Virginia. It was THAT good!)
Fluffy Chix Cook will be re-making keto Skillet Beef into these family favorites (coming soon):
Skillet Beef with Zoodles
Creamy Alfredo Beef with Zoodles
Sloppy Joes
Skillet Beef – Low Carb Gluten Free Staple
Fluffy Chix Cook's Skillet Beef makes an TNT (tried and true) ground meat mixture that forms the base for many dishes. Cook it in bulk, portion in 1/2 cup or 1 cup units for easy transformation on the fly. Don't forget to B/T! Then freeze until ready to enjoy them again under a clever, new disguise!
Ingredients
Instructions
Crumble beef into medium sauté pan. Add all ingredients except Worcestershire Sauce. Cook mixture over high heat until meat begins to brown and onions become translucent. Add Worcestershire sauce in the last 5 minutes of cooking to avoid burning the mixture.
Remove from heat. Portion and use meat base 1 immediately, or allow meat base 1 to cool. Portion in 1/2 to 1 cup size units and freeze or refrigerate for later use.
Notes
This recipe doubles and triples like a champ! Just don't double or triple the salt. Add salt in increments to suit your taste! Include this beef base in so many dishes. You can Bubba Gump Skillet Beef until the cows come home and will never be able to fully think of every possible derivation.
*Tip* If you "must" reduce calories and fat per serving (for whatever reason), try using leaner cuts of ground meat such as 90/10 sirloin, buffalo, venison or elk, lamb, turkey breast (skinless), chicken breast (skinless). You can also drain off any fat from the pan and rinse it with hot water prior to adding the spices and Worcestershire sauce. I don't recommend the last method of calorie/fat reduction. Fat is your friend in a low or controlled carb world. In fact fat is the key or cornerstone in a ketogenic lifestyle.
Serving Ideas Combine Skillet Beef with sautéed onions, peppers, and cheese for a poor man's Philly cheesesteak mix, or use to make taco meat, or Sloppy Joes of all varieties. Combine with sautéed mushrooms and roasted tomato marinara sauce for a hearty Italian meat sauce made from scratch. Use in casseroles, soups, stews, stir fries such as crack slaw and even stuffed peppers. The possibilities are endless.
Nutritional Information Per 3/4 Cup Serving: 466 Calories; 35g Fat (69.8% calories from fat); 31g Protein; 4g Carbohydrate; 1g Dietary Fiber; 128mg Cholesterol; 626mg Sodium. 3g Effective Carbs
Copyright © 2012 Fluffy Chix Cook. All rights reserved.
http://fluffychixcook.com/skillet-beef-low-carb-gluten-free-staple/
Copyright © 2016 Fluffy Chix Cook. All rights reserved.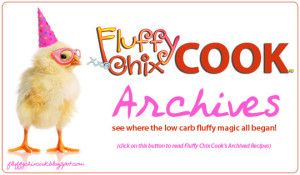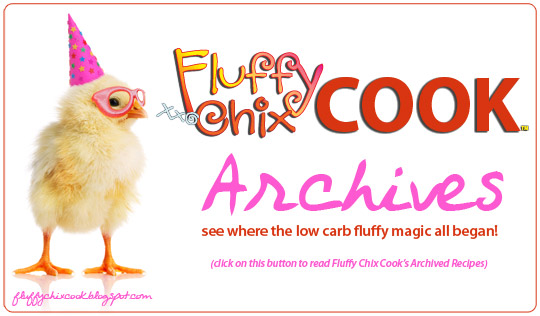 Copyright © 2012 Fluffy Chix Cook. All rights reserved.
We are not dieticians, nutritionists or medical professionals. The materials on this blog are for informational (and fun) purposes only. We do not fact check, nor do we worry about sources. Please do your own fact checking. We encourage you to look things up and check with your doctor or health care professional before acting on anything seen on Fluffy Chix Cook. xoxo