Skillet Beef Zoodles – Dr. Westman No Sugar No Starch Diet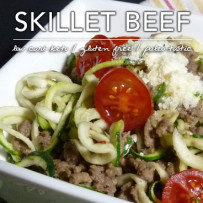 Fluffy Chix Cook serves a Dr. Westman's and Duke Lifestyle Medicine Clinic's No Sugar No Starch Page 4 Meal Plan featuring a quick and easy leftover breakfast. Who said you must have eggs for breakfast? Low carb and keto leftovers like Salmon Salad in Romaine Boats make a fun weekday breakfast in minutes! Throw in a Deviled Egg with plenty of hot coffee and cream. Lunch is a simple Cobb Salad made from leftover Rotisserie Chicken and bacon. Delish! Dinner satisfies pasta cravings! Skillet Beef with Zoodles makes a smart (and fast) low carb dinner and what's easier than a side of quartered grape tomatoes? There's even room for dessert, sugar free gelatin with Whipped Cream! Who would be hungry on this meal plan? The full Page 4 friendly day rings in at 20g total, non-netted carbs.
Day 2 of Dr. Westman's Page 4 No Sugar No Starch Diet begins today. Yesterday went pretty smoothly with only brief periods of hunger in the afternoon and evening. I did end up having hunger last night around 9pm. I cut 2 slices of Kraft cheese into 16 squares each (32 total) for a whopping 2g of Effective Carbs and about 160 calories. I won't sweat going over by 2g of carbs. I don't think I got fat from eating 2g of excess carbs. Do you? Anyway, nuke the cheese squares on parchment paper for 40-50 seconds. Poof! Crackers! Very satiating. This morning I feel good and ready to tackle the day. Have an appointment with the lymphoma people for a check-up. I have a dreaded feeling they will want me back in therapy to help me through the sensitivity to my wrappings.
The idea is that until I know I'm firmly in ketosis, I will try to eat three meals a day and not worry about any quantities other than the carbs (non-netted total carbs). I've made some proposed WEEK 1 daily menus and will try to follow them. The included nutritional totals are for anyone who can't resist looking at totals. It's a LOT of food-I know I won't be hungry. I remind myself…crap, keep your eyes up, don't LOOK at the calories!
Find the list of Page 4 friendly foods in Dr. Westman's publication. Cheap at amazon.com, along with his instructions.
Join fellow Page 4 Groupies in the Facebook group dedicated to following Dr. Westman's Page 4 plan. Learn more about the lifestyle and how to accurately implement it into your life.
Here's the link to the group: https://www.facebook.com/groups/DukeLowCarbSupportGroup/
My Goals For Week 1:

1. Keep weekday meal prep to a minimum.

[Try to prep ahead (which I already missed cuz I didn't cook on Sunday like I should). Will try to get a couple of hours in the kitchen today to bust a move with make-ahead recipes.]

2. Keep recipes super simple and 1-2 servings only.

3. Eat ONLY until hunger is satisfied and NOT until full!

(Even though the portion I computed and allowed myself is reasonable, I will try to follow my hunger and quit eating at the first sign of being full! If I'm not hungry, I will not eat and will skip the meal. So the menu below represents the maximum of what would be consumed today.)
2014 | WEEK 1 | DAY 2 | DR. WESTMAN'S NO SUGAR NO STARCH (PAGE 4) DIET MEAL PLAN | SKILLET BEEF WITH ZOODLES (20g WHOLE CARBS)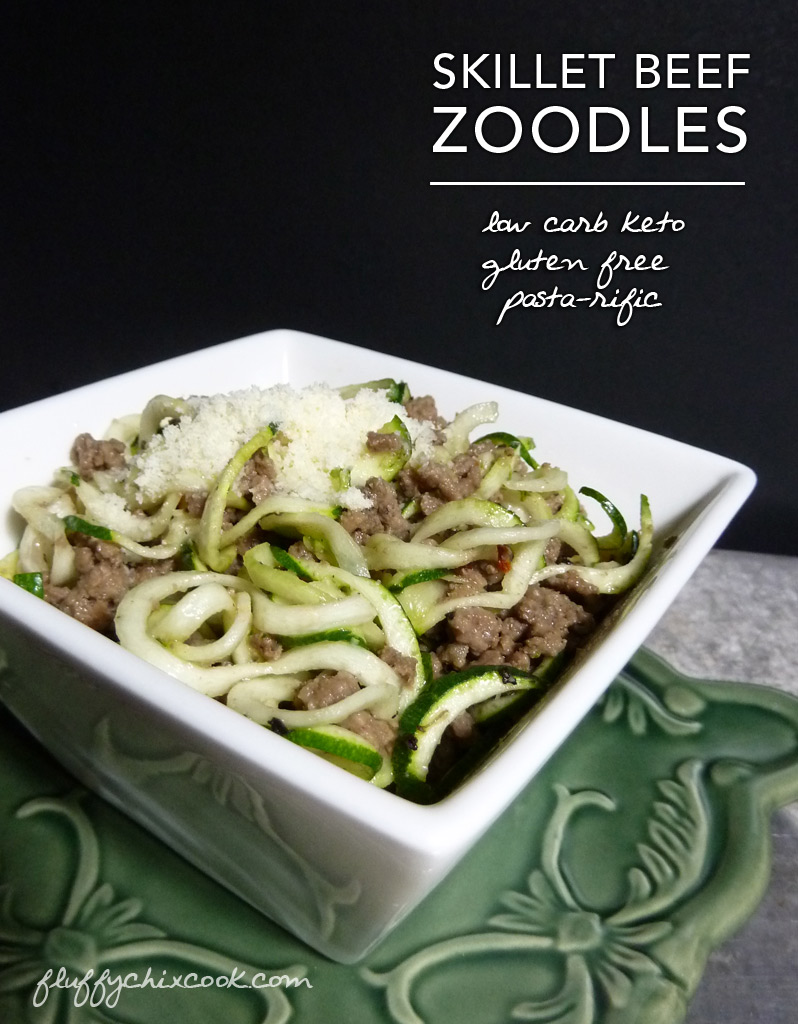 Breakfast
Coffee or Tea with Heavy Cream
Salmon Salad Romaine Boats
Deviled Egg
Lunch
Cobb Salad
Dinner
Skillet Beef with Zoodles
Sliced Grape Tomatoes
Dessert
Sugar Free Gelatin with Whipped Cream
Daily Totals:  1633 Calories; 131g Fat (72.2% calories from fat); 93g Protein; 20g Carbohydrate; 5g Dietary Fiber; 899mg Cholesterol; 15g Effective Carbs

20 grams of whole non-netted carbohydrate for the day!

Breakfast:
coffee or tea and cream (103 Calories; 11g Fat (92.8% calories from fat); 1g Protein; 1g Carbohydrate; 0g Dietary Fiber; 1g Effective Carb)
2 cups decaff coffee, black, unsweetened
2 Tbsp heavy cream
Salmon Salad Romaine Boats (259 Calories; 22g Fat (75.5% calories from fat); 14g Protein; 2g Carbohydrate; 1g Dietary Fiber; 1g Effective Carbs)
1 serving Salmon Salad (about a hearty half cup)
3 romaine heart leaves
1 serving Deviled Egg (2 halves) (100 Calories; 8g Fat (70.3% calories from fat); 7g Protein; trace Carbohydrate; 0g Dietary Fiber; trace g Effective Carbs)
Lunch:
Cobb Salad (493 Calories; 35g Fat (64.3% calories from fat); 34g Protein; 10g Carbohydrate; 3g Dietary Fiber; 7g Effective Carbs)
Dinner:
1 serving Skillet Beef with Zoodles (about 1 1/3 cups) (523 Calories; 38g Fat (67.2% calories from fat); 36g Protein; 6g Carbohydrate; 2g Dietary Fiber; 5g Effective Carbs)
1 serving grape tomatoes, quartered or halved (about 4-6) (10 Calories; 0g Fat (0.0% calories from fat); trace g Protein; 2g Carbohydrate; 1g Dietary Fiber; 1g Effective Carbs)
Dessert:
1 serving sugar free gelatin with Whipped Cream (61 Calories; 6g Fat (87.8% calories from fat); 1g Protein; trace Carbohydrate; 0g Dietary Fiber; trace g Effective Carbs)
2 Tbsp Whipped Cream (measure portion after whipping)
By the way, here's are two really good specials on very popular zoodlers aka spiral slicers!! So zoodle like there's no tomorrow!!! 😀
For those of you who might not know, parchment paper is DIFFERENT from waxed paper. Parchment Paper is impregnated with food-safe silicone and keeps foods from sticking. Food releases so easily with it. Waxed paper on the other hand is impregnated with wax which melts at high temperature.  Never try to substitute waxed paper for parchment. It will fail every time. Food will stick like there's no tomorrow and you'll end up eating a lot of yuk you don't want in your body! Parchment is available at most grocery stores on the same isle as the nonstick and heavy duty aluminum foils. If you can't find it there, here's one that I like that's already cut into sheets and is actually cheaper per square foot (I think…remember I'm not mathematician!).
For more recipes visit Fluffy Chix Cook Recipes or visit Fluffy Chix Cook's Recipe Archive!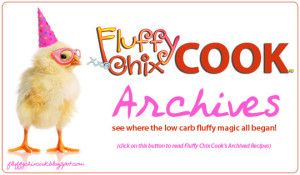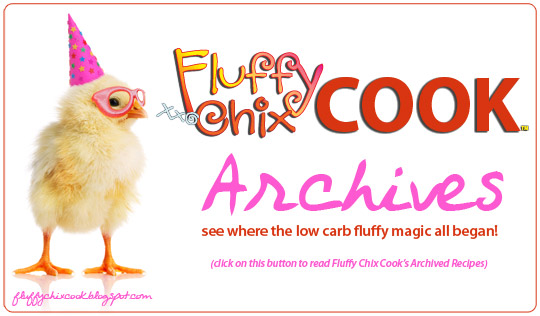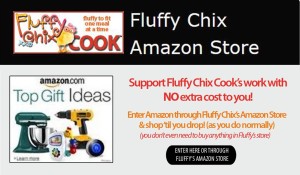 You may notice a discrepancy when adding the total carbs shown by line-item. Do not be overly concerned. MasterCook 9 rounds numbers, so when the individual recipes are combined in a daily meal, the total is calculated to include decimals points. This may result in a +/- difference of 1-2 g of carbs. The Daily Total value is the more accurate figure. Thanks and sorry for any inconvenience!
Copyright © 2014 Fluffy Chix Cook. All rights reserved.
We are not dieticians, nutritionists or medical professionals. The materials on this blog are for informational (and fun) purposes only. We do not fact check, nor do we worry about sources. Please do your own fact checking. We encourage you to look things up and check with your doctor or health care professional before acting on anything seen on Fluffy Chix Cook. xoxo