Slow Cooker Pulled Pork Roast – Dr. Westman's No Sugar No Starch Diet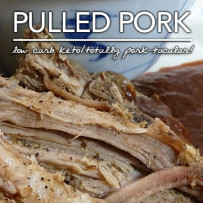 Fluffy Chix Cook prepares Day 7 of Dr. Westman's and Duke Lifestyle Medicine Clinic's No Sugar No Starch Page 4 Meal Plan featuring a low carb ketogenic portable Sunday brunch of convenience. Making a BOB (Breakfast on a Bun) is never a bad thing. Make them ahead for even more convenience! Then pop one out, warm it and enjoy a no-stress morning with coffee. Have a little afternoon snack of sausage and cheese, perfectly keto and delicious. Dinner is a slow cooked pulled pork shoulder that will make awesome leftovers in a variety of flavors and iterations! And of course, enjoy a little sugar free gelatin. Keto, gluten free, low carb heaven that is also VERY diabetic friendly. Who would be hungry on this meal plan? The full Page 4 friendly day rings in at 20g total, non-netted carbs.
Day 7 of Dr. Westman's No Sugar No Starch Diet begins today. It's the last day of the week and time to begin preparation for the week ahead. Tomorrow Week 2 begins and I will make my official weigh-in. I know I'm enjoying myself, but don't feel like I'm losing weight. The cals (which I'm not officially counting are much higher than what I'm used to eating–as much as 800+ calories more than usual! So I will be thrilled to see no weight gain.
Spirits are still very good, energy feels pretty good. Pain is still chronically high in my back, but I have strong hopes for the future. Despite the pain, I "think" I maybe sleeping marginally better-and this is all in the days before starting NSNS Diet. No doubt I'm in ketosis. That faint metallic taste on the back of my tongue tells me as do the other signs I've mentioned before today. Very little hunger, but once I start eating it all tastes so good, that I don't want to stop. I might not eat lunch today depending.
Also, the pulled pork shoulder may seem like a LOT of meat. Feel free to use a partial cut of sholder or pork shoulder chops aka country style ribs. But the meat portions and freezes and can provide many meals very cheaply. We paid $0.99/lb on sale for this 8 1/2 pound full shoulder or butt. You can probably understand why a full shoulder is better than paying $2.49/lb for the same thing in a 3 1/2 to 4 lb cut. The first meal is always eaten as pork roast. We later switch it up to BBQ, Cajun debris, crack slaw, green enchiladas, green chili, chili red, pork street tacos, chalupas, BOBs, BIBs, pork with eggs, salads, slaws, so many derivations for this lovely meat, and no two meals feel like you're eating the same thing twice! Beauty, eh?
Find the list of Page 4 friendly foods in Dr. Westman's publication. Cheap at amazon.com, along with his instructions.
Join fellow Page 4 Groupies in the Facebook group dedicated to following Dr. Westman's Page 4 plan. Learn more about the lifestyle and how to accurately implement it into your life.
Here's the link to the group: https://www.facebook.com/groups/DukeLowCarbSupportGroup/
My Goals For Week 1:

1. Keep weekday meal prep to a minimum.

[Try to prep ahead (which I already missed cuz I didn't cook on Sunday like I should). Will try to get a couple of hours in the kitchen today to bust a move with make-ahead recipes.]

2. Keep recipes super simple and 1-2 servings only.

3. Eat ONLY until hunger is satisfied and NOT until full!

(Even though the portion I computed and allowed myself is reasonable, I will try to follow my hunger and quit eating at the first sign of being full! If I'm not hungry, I will not eat and will skip the meal. So the menu below represents the maximum of what would be consumed today.)
2014 | WEEK 1 | DAY 7 | DR. WESTMAN'S NO SUGAR NO STARCH (PAGE 4) DIET MEAL PLAN | PULLED PORK ROAST (20g WHOLE CARBS)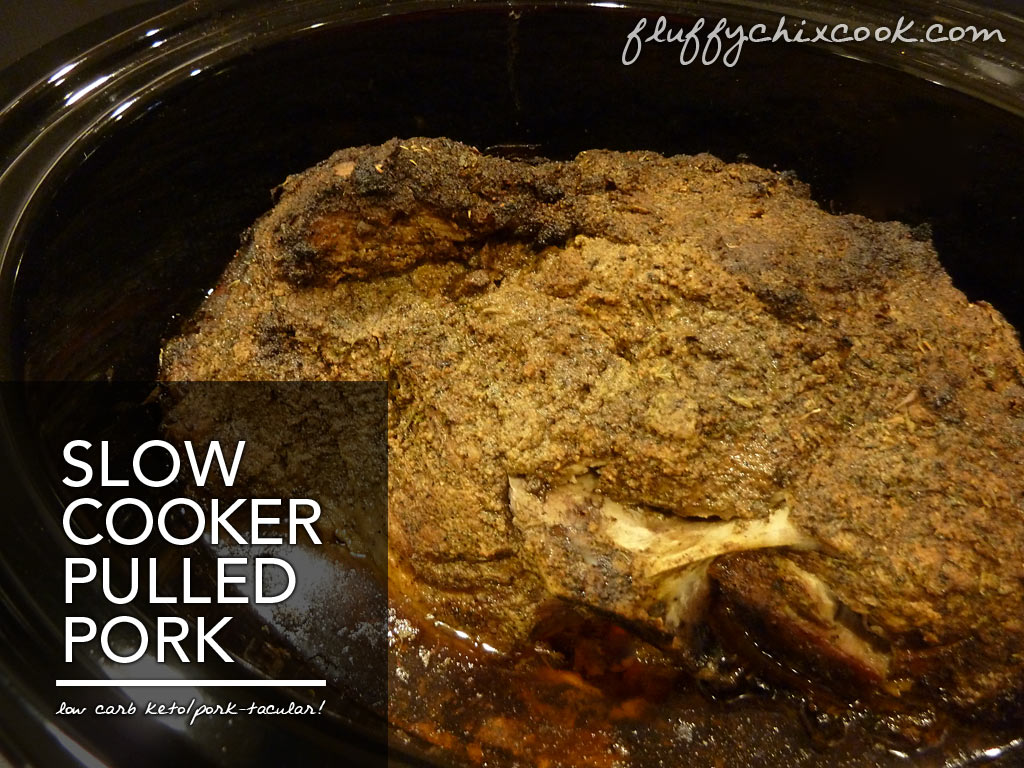 Brunch
Coffee or Tea with Heavy Cream
BOB (Breakfast on a Bun)
Snack
Sausage Cheese Plate
Dinner
Pulled Pork & Pan Juice
Roasted Mashed Cauli
Side Salad with Avocado and House Vinaigrette
Dessert
Sugar Free Gelatin with Whipped Cream
Daily Totals: 1548 Calories; 127 Fat (73.7% calories from fat); 82g Protein; 20g Carbohydrate; 6g Dietary Fiber; 14g Effective Carbs
20 grams of whole non-netted carbohydrate for the day!

Brunch:
coffee or tea and cream (103 Calories; 11g Fat (92.8% calories from fat); 1g Protein; 1g Carbohydrate; 0g Dietary Fiber; 1g Effective Carb)
2 cups decaff coffee, black, unsweetened
2 Tbsp heavy cream
1 serving BOB (Breakfast on a Bun) (487 Calories; 41g Fat (76.8% calories from fat); 26g Protein; 2g Carbohydrate; trace g Dietary Fiber; 2g Effective Carbs)
1 Basic Revolution-ary Roll, split and buttered & pan toasted
1/2 Tbsp butter
1 large egg, hard fried in bacon grease
1 tsp bacon grease
2 slices bacon, crispy
1 ounce cheddar cheese, thinly sliced
Snack:
Sausage & Cheese Plate  (129 Cals; 9g F (66.7% calories from fat); 9g Protein; 1g Carbohydrate; trace g Dietary Fiber; 1g Effective Carbs)
1/2 Link Sausage (about 1 ounce)
1 ounce Cheese (sliced thinly)
1 tsp yellow mustard smeared on cheese with cayenne
2 hot pickled okra spears (Talk o' Texas brand)
Dinner:
5 ounce Slow Cooker Pulled Pork (385 Cals; 25g F (60.8% calories from fat); 36g Protein; 1g Carbohydrate; trace g Dietary Fiber; 1g Effective Carbs)
1/2 cup Roasted Smashed Cauliflower with Butter (187 Cals; 18g F (80.3% calories from fat); 3g Protein; 6g Carbohydrate; 3g Dietary Fiber; 3g Effective Carbs)
Blue Cheese Side Salad with House Vinaigrette (197 Cals; 17g F (74.3% calories from fat); 5g Protein; 8g Carbohydrate; 2g Dietary Fiber; 6g Effective Carbs)
2 cups romaine hearts, torn
1 ounce grape tomatoes, halved
1 ounce avocado, sliced
1/2 ounce blue cheese crumbles
2 Tbsp House Vinaigrette
Dessert:
1 serving sugar free gelatin with Whipped Cream (61 Calories; 6g Fat (87.8% calories from fat); 1g Protein; trace Carbohydrate; 0g Dietary Fiber; trace g Effective Carbs)
½ cup sugar free gelatin
2 Tbsp Whipped Cream (measure portion after whipping)
For more recipes visit Fluffy Chix Cook Recipes or visit Fluffy Chix Cook's Recipe Archive!
You may notice a discrepancy when adding the total carbs shown by line-item. Do not be overly concerned. MasterCook 9 rounds numbers, so when the individual recipes are combined in a daily meal, the total is calculated to include decimals points. This may result in a +/- difference of 1-2 g of carbs. The Daily Total value is the more accurate figure. Thanks and sorry for any inconvenience!
Copyright © 2014 Fluffy Chix Cook. All rights reserved.
We are not dieticians, nutritionists or medical professionals. The materials on this blog are for informational (and fun) purposes only. We do not fact check, nor do we worry about sources. Please do your own fact checking. We encourage you to look things up and check with your doctor or health care professional before acting on anything seen on Fluffy Chix Cook. xoxo