Slow Roasted Country Style Pork Ribs | Keto Allergy KISS Day 4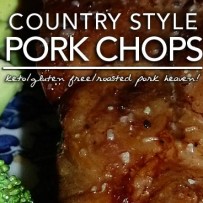 Naturally low carb keto Slow Roasted Country Style Pork Ribs make a super quick KISS Meal whether or not you follow an Induction level food plan or if you're following a low carb keto allergy rotation/elimination style of diet. There are very minimal ingredients and yet bold flavors with  lots of comfort in this meal. Check in with Fluffy Chix Cook and the Fluffys to see how Mr. Fluffy is progressing and learn a little more about how to rotate food families to help identify food sensitivities while following an easy low carb lifestyle.
Day 4 Pork/Mustard/Grass/Legume Day – (Apologies in advance. We were too pooped to take piccys other than #crapieatatmydesk quality photos.) Oh boy! I am not gonna lie to you, we were both nervous about Day 4 food choices! One of Mr. Fluffy's worst reactions started during the night immediately following a dinner of Mustard Glazed Center Cut Pork Chops with Roasted Cauliflower. It was a harrowing 3 day ordeal where we watched first one portion of his lips swell and then witnessed them as the swelling spread around the perimeter of his mouth until his whole lips and cheek areas were puffed and painfully swollen both top and bottom.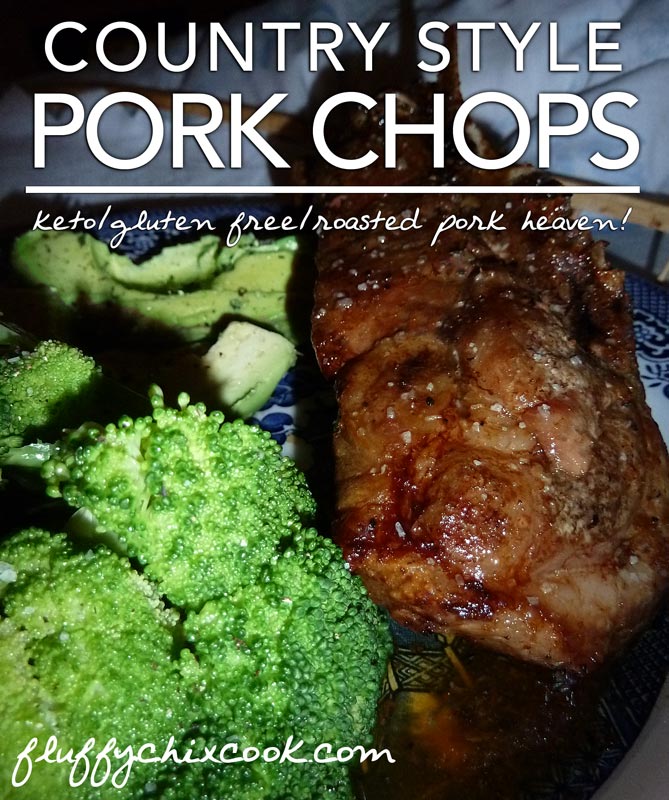 Pork is a staple in our diet. It's completely cheap in our region, with sales yielding succulent cuts of pork as low as $0.89/lb. When you live your low carb keto lifestyle on a perpetually tight budget, you grab those sales items and store them away in the freezer for a rainy day, like a hungry squirrel facing the first frost. And we have a LOT of pork in DS9 (Deep Space 9—our chest freezer)—most of it purchased at $0.89-$0.99/lb. So if Mr. Fluffy was suddenly reacting to pork, not only was the allergic reaction scary and potentially life threatening, but it was also gonna carry a financial burden. We faced losing a bunch of money we didn't have and faced having to figure out how to replace that super affordable protein in the food supply without busting a gear on our cash flow contraption. *gulp*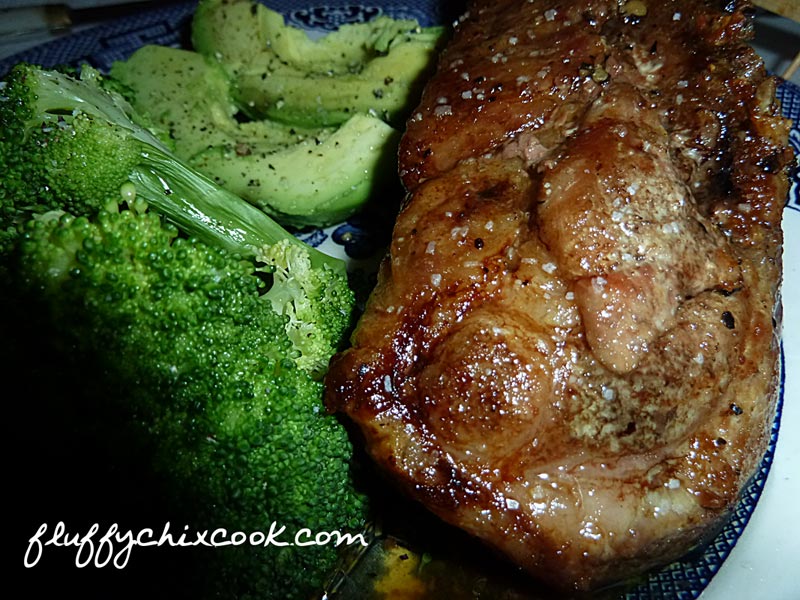 We had no other recourse but to "test" pork once more, pray for the best, and prepare for the worst. I decided we'd go as bare bones as we could in order to keep variables to a minimum. If he was gonna have a reaction, I damn-sure wanted to be certain where that reaction originated. Because he's safe with dairy (cheese), I let him have 3 ounces of cheese just to up his daily protein. Dinner would be another super simple, keto KISS meal. We knew he was good with broccoli and butter, and also good with avocado (a big potential allergen for many—thankfully not Mr. Fluffy). That left only the beautiful country style pork ribs to make, and decisions had to be made!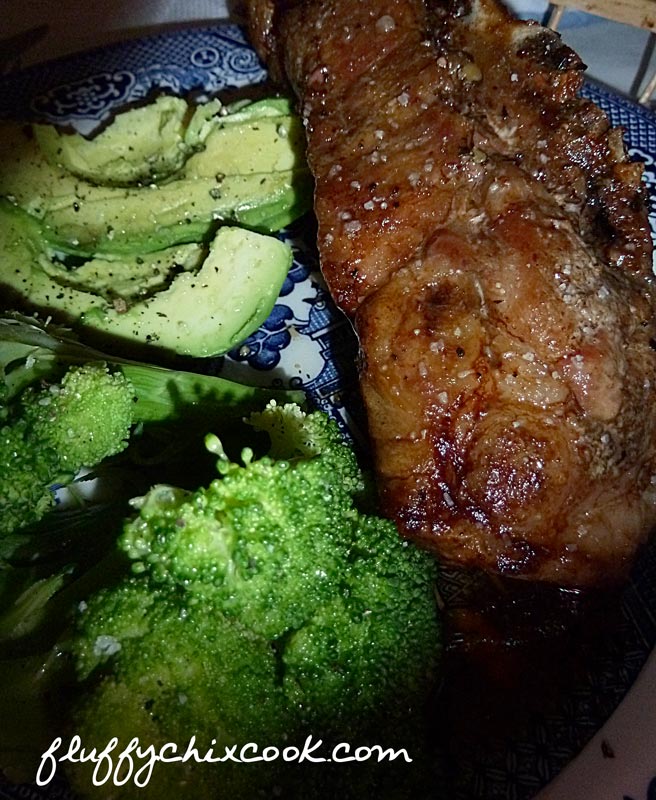 I decided to go with a recipe so danged easy it should not be called a recipe; it's more a "method" of cooking. ALL the flavor in the final dish originates in the meat and is developed solely by virtue of how it's cooked. Get this technique down and use it on any cut of meat that benefits from being cooked low and slow—that's any tough and fatty cut of meat you can think of—regardless of animal origin!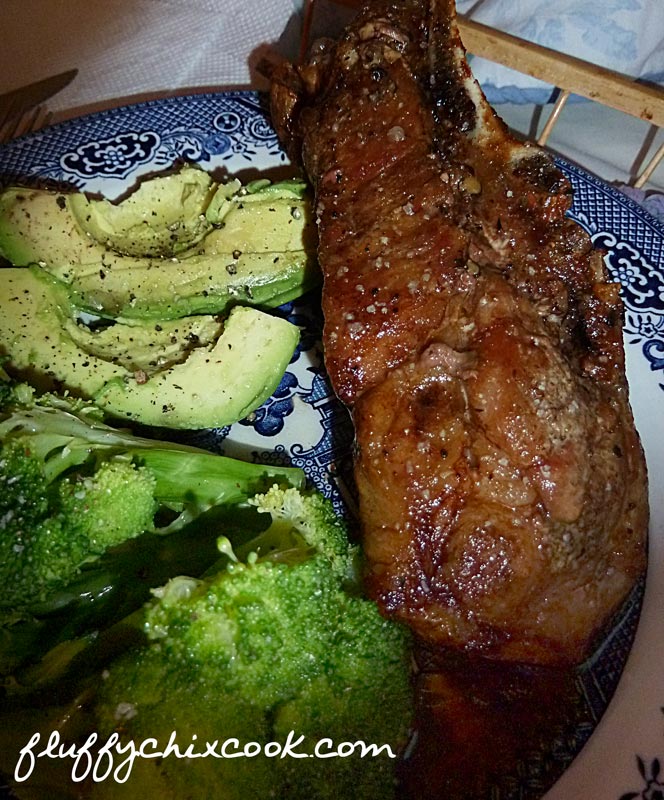 So I cooked our deliciously sinful, yet low carb keto healthy country style ribs (aka thick slabs of pork shoulder sold as "ribs") in their own rendered fat. We'd call them carnitas, but they don't have the spices or ingredients necessary to make that name authentic. So let's just call it slow roasted goodness and be done with it. And the great news…ta dah!!! Mr. Fluffy did NOT react to pork—saints be praised. Thank you Lord Jesus!!! We both did a happy dance in relief! I'm thrilled he doesn't have to endure swollen lips as a result of this test, and happy we can leave pork in our rotation!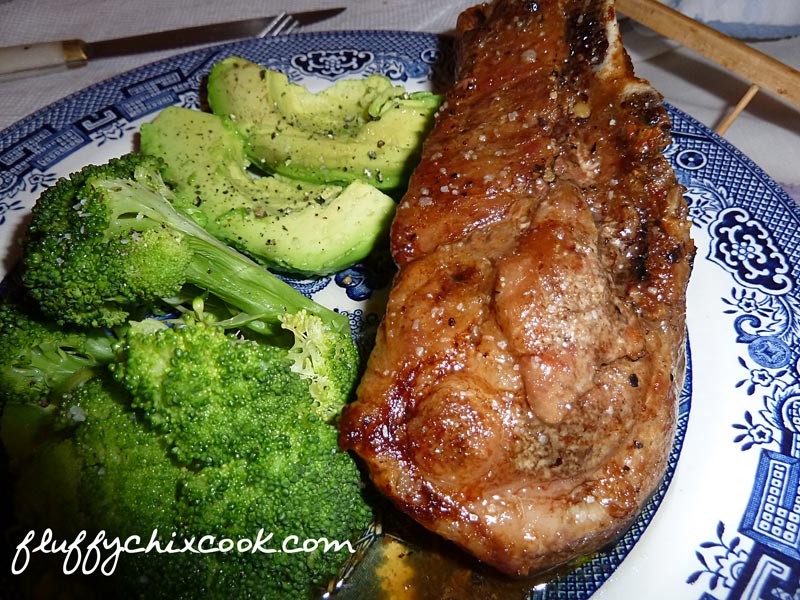 Please try this super no-brainer pork preparation, then hurry back and tell us how you like it. We defy you to tell us you hated it! The slow roasted cooking method works on country style ribs, uncured hams, pork shank, pork knuckles, neck bones, pigs heads, cheeks, pork shoulder or butt, or chunks cut from the shoulder.
(Oh and btw, I gave him avocado out of rotation by mistake. But he was ok with it. Avocado is scheduled on our Fish Day.)
DAY 4 – MR. FLUFFY'S LOW CARB KETO ALLERGY MENU
B-water
L-3 ounces cheddar cheese
D-14 ounces Slow Roasted Country Style Pork Ribs (recipe follows)
6 ounces broccoli crowns, steamed
2 tablespoons Kerrygold Butter
1/4 avocado (about 2 ounces)
Daily Totals: 1452 Calories; 115g Fat (72.0% calories from fat); 88g Protein; 12g Carbohydrate; 5g Dietary Fiber; 7g Effective Carbs; 7g Effective Carbs
DAY4 FOOD FAMILIES (for those of you who want/need to geek out)

Pork (Slow Roasted Pork Spare Ribs)

Bovid (KG Butter, Cheddar) – out of rotation

Mustard (Broccoli)

Laurel (Avocado) – out of rotation

Non-rotating Fat – olive oil
If you really want to Geek Out! Here's the Chart of ALL the foods we could choose from for DAY 4 foods. Pretty hearty ingredients, right?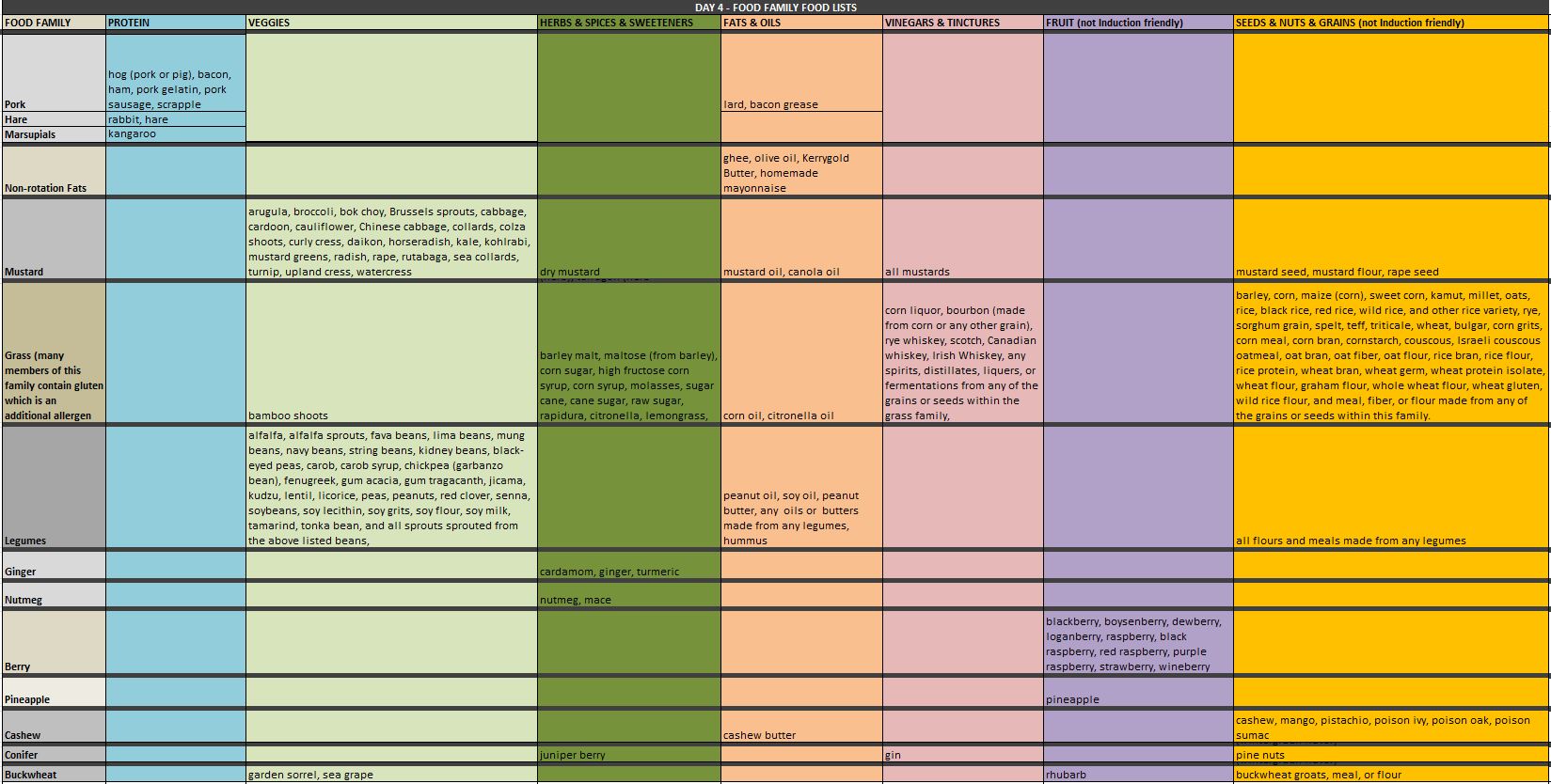 (Click to enlarge image.) Visit this pdf to see the full Food Family Allergy Rotation List and book by Lisa Lunde.
Slow Roasted Country Style Pork Ribs | Keto Allergy KISS Day 4
Roasted Country Style Pork Ribs are so simple to make, only 2 minutes of prep and about 2 1/2 to 3 hours of slow roasting yields meat that is succulently juicy insides and crusty on the outside. The pan drippings are the bomb!
Ingredients
Instructions
Heat a heavy oven safe skillet with olive oil over medium high heat until oil shimmers but is not smoking.
While oil and pan heat, season chops on all sides with kosher or sea salt and freshly ground black pepper. Brown pork loin on the all main sides of the roast—about 3-4 minutes per side, until each side is golden.
Transfer pan to a preheated 275°-350° oven and roast country style pork ribs until they are tender and the meat easily gives with you stick it with a fork and twist—about 2 1/2 to 3 1/2 hours depending on thickness of meat. It's done when it's done. Some meat ribs cook quicker; it all depends on thickness of the ribs and also on the fat content. While meat cooks, fat will render, turn the chops and rub them in the rendered fat every 30 minutes to roast all sides and keep meat moist.
Remove ribs from pan and rest of a cutting board for 10-15 minutes. Cover lightly with aluminum foil while resting. Slice thinly, pull meat, or serve the country style ribs whole. Don't forget to ladle a little of the pan drippings and fat over each serving. Make sure to save all drippings for later use in other dishes!
Notes
Roasted Country Style Pork Ribs are a super economical meal, filled with great nutrition. Full of flavor and satisfaction, you'd never guess how cheap or easy it is to make a big protein like this. We paid $0.89/lb for an assorted package of pork cuts and within the package were 3 beautiful country style pork ribs. We knew instantly what we would do with them…and used Occam's Razor (Occam's Razor refers to the easiest path is the solution) to make good low carb keto food happen. The best part is you hopefully have Lucky Leftovers for another meal plus a good amount of rendered lard. 2 1/2 pounds sounds like a lot of meat, but remember, country style ribs usually contain bone and a good measure of fat that renders during cooking. It's not unusual to only yield about 70% of the raw weight to pure cooked meat—about 28 ounces, give or take. 3 ribs weighed a total of 2 ½ pounds.
Serving Ideas Serve with your favorite veggie or salad!
Nutritional Information
Per 8-9oz cooked serving with pan juices: 739 Calories; 62g Fat (76.0% calories from fat); 44g Protein; 0g Carbohydrate; 0g Dietary Fiber; 0g Effective Carbs
Per 6-7oz cooked serving with pan juices: 555 Calories; 46g Fat (76.0% calories from fat); 33g Protein; 0g Carbohydrate; 0g Dietary Fiber; 0g Effective Carbs
Copyright © 2015 Fluffy Chix Cook. All rights reserved.
http://fluffychixcook.com/slow-roasted-country-style-pork-ribs-keto-allergy-kiss-day-4/
Copyright © 2016 Fluffy Chix Cook. All rights reserved.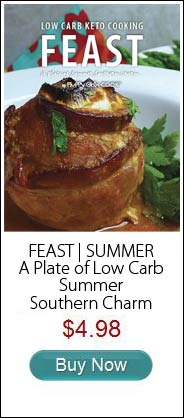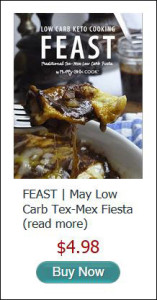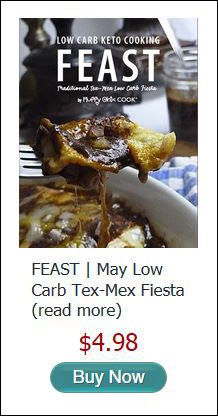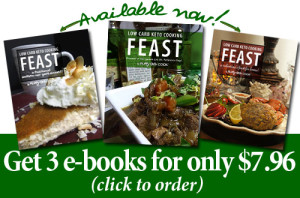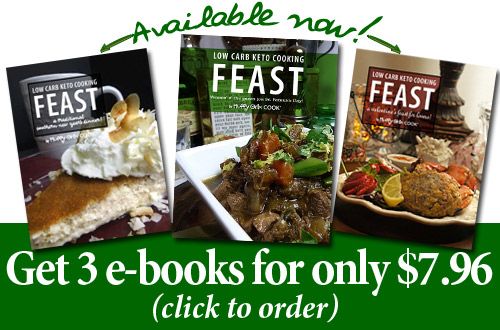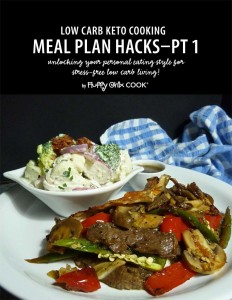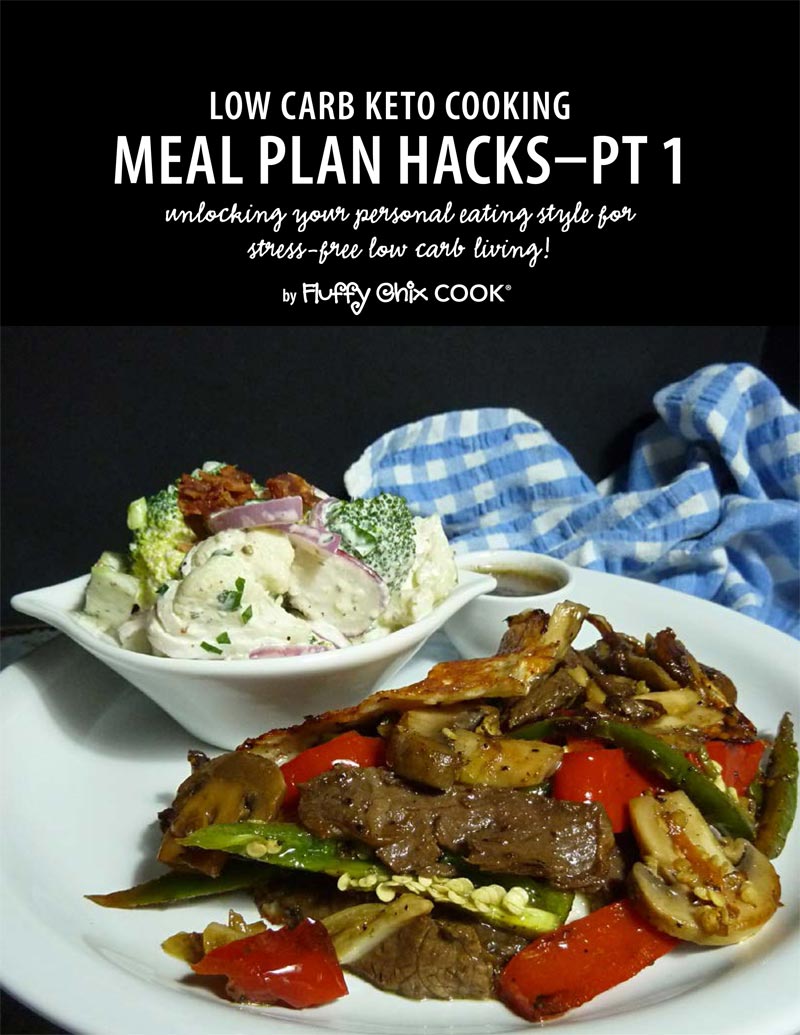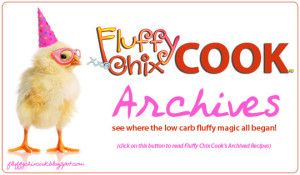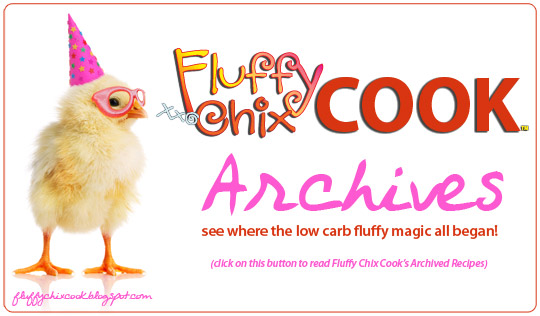 Copyright © 2015 Fluffy Chix Cook. All rights reserved.
We are not dieticians, nutritionists or medical professionals. The materials on this blog are for informational (and fun) purposes only. We do not fact check, nor do we worry about sources. Please do your own fact checking. We encourage you to look things up and check with your doctor or health care professional before acting on anything seen on Fluffy Chix Cook. xoxo