Sour Cream Enchiladas – A Low Carb Keto and Gluten Free Tex-Mex Classic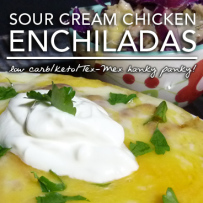 Sour Cream Chicken Enchiladas are easy to re-make into a low carb keto plate of Tex-Mex heaven. The sour cream enchilada sauce tastes great on its own and is so versatile used as a sauce for many proteins: chicken, shrimp, seafood, you name it. But sour cream enchiladas, sometimes called Enchilada Suizas are a Tex-Mex fan favorite. Thanks to Fluffy Chix Cook, they can now be part of your healthy LCHF lifestyle and are gluten free, too (if you tolerate dairy–casein in dairy is often a cross-sensitivity with gluten).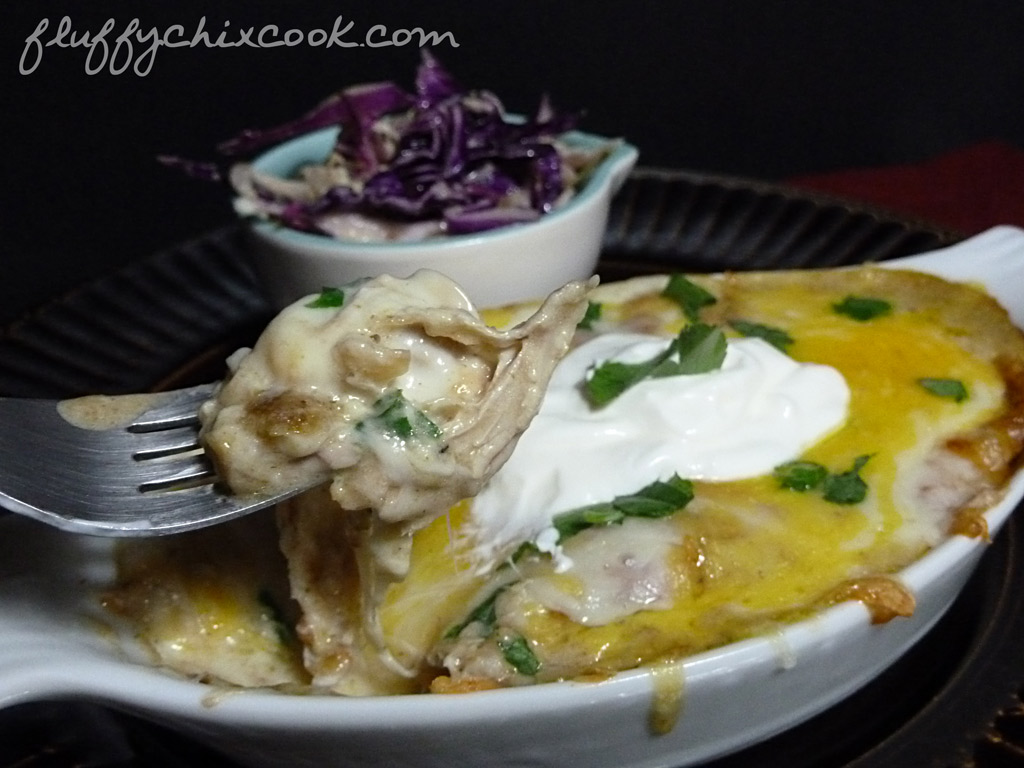 Brace yourselves. The Fluffys are about to give you our TNT, family classic recipe for a super high carbage favorite, decarbified, of course: Sour Cream Enchiladas aka Enchiladas Suizas. We first had these with Mom and Dad in the '70s, at Ninfa's on Navigation, in the old part of Houston. One taste of the delicate Crab and Shrimp Enchiladas enrobed in this tangy, creamy, and spicy white sauce, covered in gooey Monterey Jack cheese, and we were hooked. They were mana from heaven. We'd grown up eating, and were so familiar with, chili gravy and traditional red chile sauces—they were part of our Tex-Mex heritage! But what was this delicate cream sauce that made seafood enchiladas sing? We knew right away we needed to come back to the kitchen and begin our mad scientist experiments to recreate it.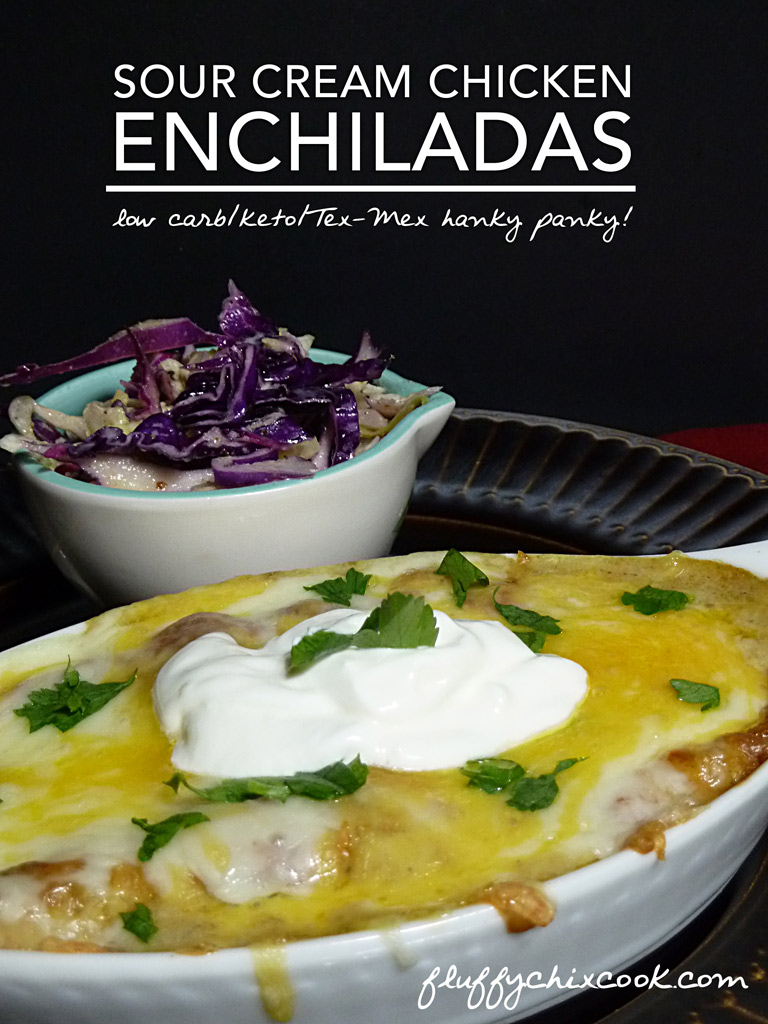 We succeeded with a variation of Sour Cream Enchilada Sauce, so creamy and rich (and spicy), that worked on enchiladas: seafood, chicken and cheese. It also worked as a sauce to top grilled or pan seared chicken, shrimp and crab, and even fish. So good! It quickly became a house favorite, on par with our beloved chili gravy (a brown sauce chile seasoned gravy used to top cheese or beef enchiladas and chiles rellenos).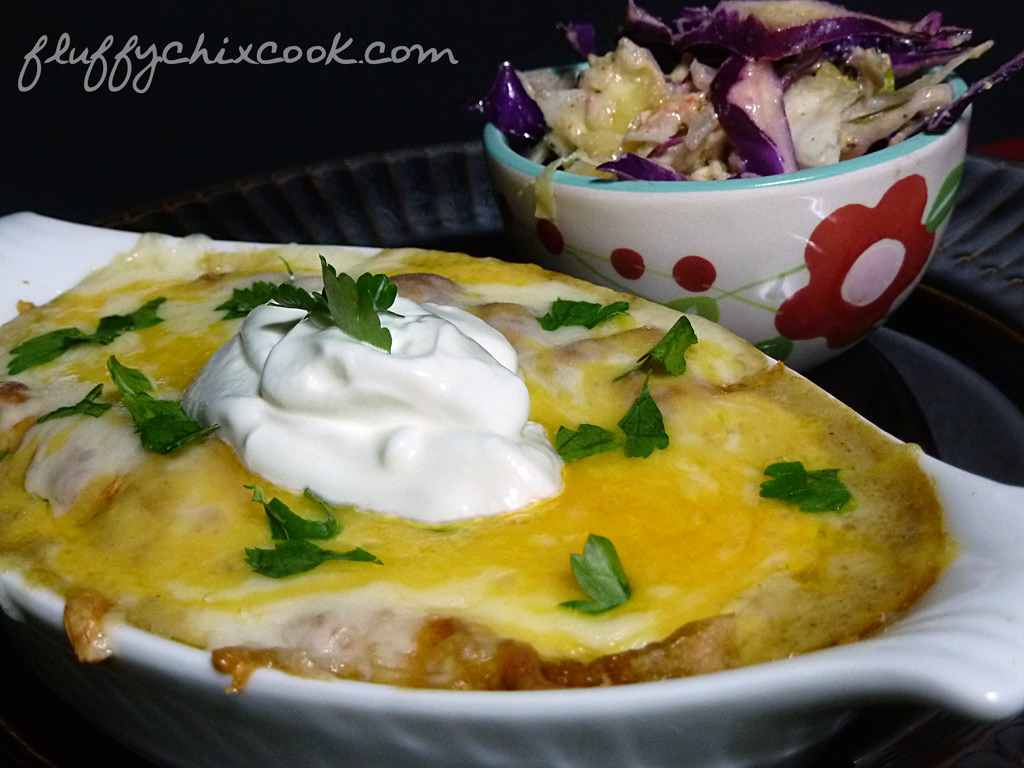 Sour Cream Enchiladas, despite being easy to make, are a festive dish and became a favorite to star in the day-after-Thanksgiving-show. One of the biggest Thanksgiving traditions among Texans is really a "post-Thanksgiving" tradition. The day after Thanksgiving, everyone rolls out of their house and away from the turkey, straight into the arms of a big steaming, cheesy plate of anything Tex-Mex (mostly of the enchilada persuasion). It's a big, noisy, crowded mess—but it's a mess Texans are willing to endure, just for a break from anything turkey, and for rejuvenation from our beloved Tex-Mex cuisine.
The Fluffys also developed a recipe for super low carb keto friendly wraps, Page 4 Wraps, with only 1g Total Carbs!!! Yes! Exclamation points out the ying yang on this one! Page 4 Wraps, named for our favorite low carb doc, Eric C. Westman, MD, MHS, internal medicine physician, ketogenic diet researcher, founder and director of Duke University Lifestyle Medicine Clinic, and co-founder/director of HEAL Clinics, respected public speaker, NY Times best selling author, and author of A LOW CARBOHYDRATE, KETOGENIC DIET MANUAL: THE NO SUGAR, NO STARCH DIET, known simply as PAGE 4, around these parts. These wraps can be subbed for the Lo Lo Wraps in the recipe and taste divine. You won't believe these enchiladas are low carb!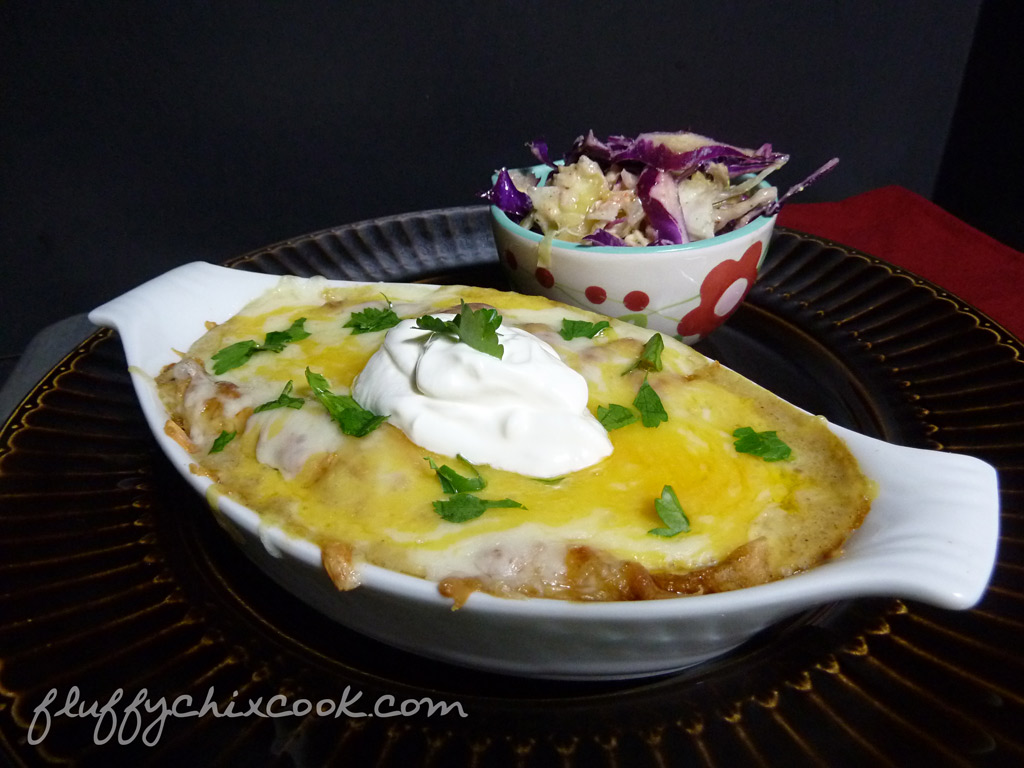 But gah! Tex-Mex is inherently high carbage food. What to do? Do you go out the day after Thanksgiving and cheat on your low carb keto lifestyle? No way, Jose! It's simple! Make your own easy-peasy, delicious, and healthy low carb keto Sour Cream Chicken Enchiladas at home and serve them with a side of green salad topped with House Vinaigrette. Avoid the crowded mayhem, save money and remain true to your low carb keto lifestyle.
Chile Nutrition & Origins of Sour Cream Enchiladas
It's no secret the Fluffys are nutso chileheads! We'd eat those spicy little gems any meal of the day—and do—breakfast through dessert!
Chiles (red or green) are totally packed with hearty nutrition
. They are high in vitamins C, have tons of beta carotein (a precursor to vitamin A), and are packed with potassium. But never mind the nutrition, they pack a wallop of flavor and heat, and that's an addictive thing to Texans.
Sour Cream Chicken Enchiladas most likely came from Swiss immigrants to Mexico, who started dairies and created cream-based Mexican sauces. It likely found its way to California, but as with many cuisines from California to Louisiana, Texas appropriated them and made them our own, especially when the recipes involve heat from one source or another.
The Fluffys love cooking any low carb keto Tex-Mex fave in individual oval casserole dishes because if you make your own serving, then you KNOW how much sauce and cheese you will get with your serving. When you make a big 9×13-inch pan of enchiladas, it's entirely likely your piggy little brother will take most of the sauce and cheese meant to top YOUR enchiladas! Nothing frosts your chaps like an enchilada sauce thievin" little brother. To combat a Tex-Mex enchilada sauce war of epic proportions, you must simply make each serving independent of its neighbor! These are our favorite oval casseroles perfect for the shape of enchiladas and chiles rellenos! They withstand going from freezer to oven and can even be used under the broiler. They come 4 to a set.
Please try Fluffy Chix Cook's Sour Cream Chicken Enchiladas then hot-foot it back here to tell us your tale of Tex-Mex feats of kitchen prowess! We wanna hear about your conversion to the church of Tex-Mex! And…if you want a great book on Tex-Mex cuisine (high carbage style) you should totally check out Robb Walsh's definitive book THE TEX-MEX COOKBOOK: A HISTORY IN RECIPES AND PHOTOS
Sour Cream Enchiladas – A Low Carb Keto and Gluten Free Tex-Mex Classic
Nothing sinful about this heavenly plate of Tex Mex Sour Cream Enchiladas. Enjoy perfectly low carb keto and gluten free delicious enchiladas in your low carb lifestyle! Keep the Sour Cream Enchilada Sauce and Lo Lo Psylli Wraps made up and make these in under 10 minutes active prep time.
Ingredients
Toppings (optional)

1 tablespoon sour cream
2 tablespoons fresh cilantro
1 ounce avocado
Instructions
Season chicken with granulated garlic, ground cumin, kosher or sea salt and fresh ground black pepper. Pull into thin strips or dice into small pieces.
Place chicken and half of the cheese inside 2 Psylli Wraps. Ladle a spoon of the sauce into the bottom of the individual casserole and spread it around. Place rolled enchiladas seam side down on top of sauce base. Spoon remaining sauce over enchiladas. Cover casserole with nonstick aluminum foil and bake in a preheated 350° until hot and bubbly throughout—about 35 minutes. The last 10 minutes, uncover and top with remaining grated cheese. Cook the remaining 10 minutes with the cover off, until cheese is melted and brown in spots.
Remove from oven and top with your favorite selection of optional toppings. Enjoy!
Notes
This was a TNT family favorite created after eating heavenly Crab and Shrimp Enchiladas as Mama Ninfa's on Navigation, many, many years ago. The sauce comes together so quickly and really imparts most of the flavor from the dish! The sauce can be used in so many different dishes.
Serving Ideas Serve with a simple green salad.
Nutritional Information:
Per Serving 543 Calories; 37g Fat (63.0% calories from fat); 41g Protein; 9g Carbohydrate; 3g Dietary Fiber; 6g Effective Carbs
Per Serving with Page 4 Wraps 592 Calories; 42g Fat (64.5% calories from fat); 44g Protein; 8g Carbohydrate; 2g Dietary Fiber; 6g Effective Carbs
Copyright © 2010 Fluffy Chix Cook. All rights reserved.
http://fluffychixcook.com/sour-cream-enchiladas-a-low-carb-keto-and-gluten-free-tex-mex-classic/
Copyright © 2016 Fluffy Chix Cook. All rights reserved.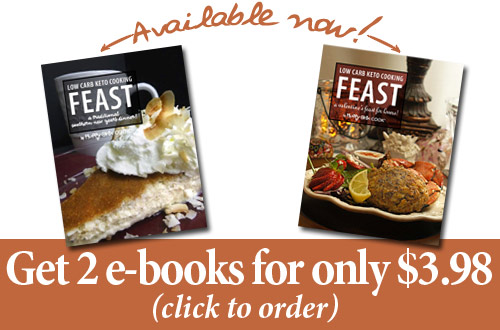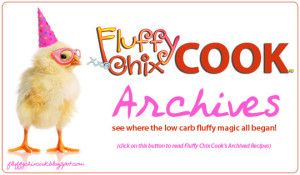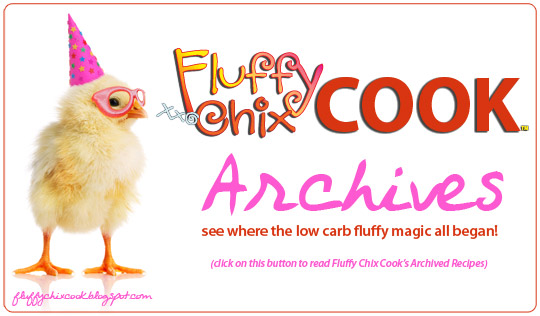 Copyright © 2010 Fluffy Chix Cook. All rights reserved.
We are not dieticians, nutritionists or medical professionals. The materials on this blog are for informational (and fun) purposes only. We do not fact check, nor do we worry about sources. Please do your own fact checking. We encourage you to look things up and check with your doctor or health care professional before acting on anything seen on Fluffy Chix Cook. xoxo