Spicy Tex-Mex Scramble – Dr. Westman's No Sugar No Starch Diet – Sept. 10, 2014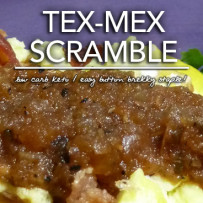 Fluffy Chix Cook presents a meal plan perfect for Dr. Eric C. Westman's and Duke Lifestyle Medicine Clinic's No Sugar No Starch Page 4 Diet, featuring a low carb ketogenic, creamy dreamy dinner, sure to please. Are you looking for  simple and quick low carb recipe options? Breakfast is easy, Tex-Mex Scrambled Eggs. Lunch is a simple two minute affair with organic baby spinach and garlicky House Vinaigrette with chicken and cotija or feta cheese. Dinner is satisfying Creamy Chicken Broccoli Alfredo in less than 15 minutes; you won't even miss the pasta! Who would be hungry on this meal plan? The full Page 4 friendly day rings in at 16g total carbs.
Dr. Westman's No Sugar No Starch Diet continues. Feel free to mix and match meal plans between weeks. This meal plan is a stand alone, and is not designed to fit into any particular week, and yet it works perfectly with any week!
Find the list of Page 4 friendly foods in Dr. Westman's publication. Cheap at amazon.com, along with his instructions.
Join fellow Page 4 Groupies in the Facebook group dedicated to following Dr. Westman's Page 4 plan. Learn more about the lifestyle and how to accurately implement it into your life.
Here's the link to the group: https://www.facebook.com/groups/DukeLowCarbSupportGroup/
Goals For Coming Weeks:

1. Keep weekday meal prep to a minimum.

[Try to prep ahead, for simple low carb keto weekday meals in minutes.]

2. Keep recipes super simple and 1-2 servings only.

3. Eat ONLY until hunger is satisfied and NOT until full! Sharpen those intuitive eating skills!

(Even though the portions we compute and allow in the meal plans are reasonable, follow and listen to your body. Are you hungry or do you have an absence of hunger? Quit eating at the first sign of being full! If you aren't hungry, don't eat. Skip the meal. If you don't want cream in your coffee or tea, skip it! 20g Total carbs per day is the maximum; there is no minimum number of daily carbs. So the menu below represents the maximum of what would be consumed.)
2014 | ANY WEEK | ANY DAY | DR. WESTMAN'S NO SUGAR NO STARCH (PAGE 4) DIET MEAL PLAN | CREAMY CHICKEN BROCCOLI ALFREDO (16g WHOLE CARBS)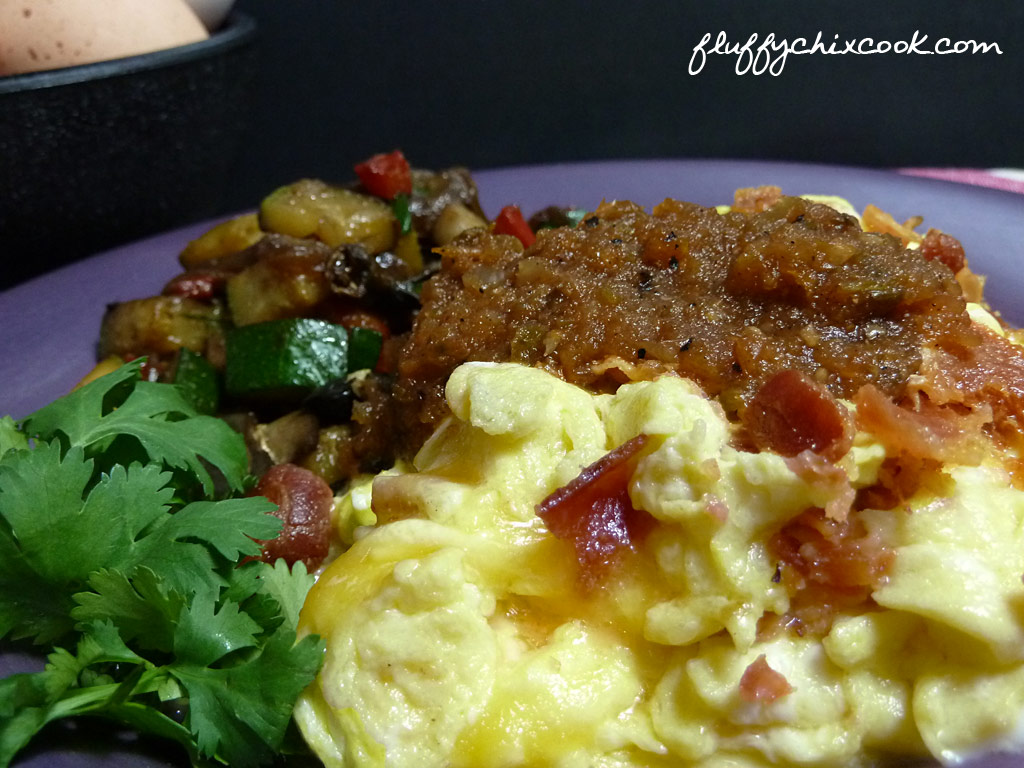 Breakfast
Coffee or Tea with Heavy Cream
Spicy Tex-Mex Scramble
Lunch
Keto Spinach Lunch Salad with Chicken
Dinner
Creamy Chicken Broccoli Alfredo
Daily Totals:  1525 Calories; 130g Fat (77.1% calories from fat); 70g Protein; 16g Carbohydrate; 3g Dietary Fiber; 13g Effective Carbs
16 grams of whole non-netted carbohydrate for the day!

Breakfast:
coffee or tea and cream (103 Calories; 11g Fat (92.8% calories from fat); 1g Protein; 1g Carbohydrate; 0g Dietary Fiber; 1g Effective Carb)
2 cups decaff coffee, black, unsweetened
2 Tbsp heavy cream
1 servings Spicy Tex-Mex Scramble (464 Calories; 39g Fat (76.3% calories from fat); 24g Protein; 3g Carbohydrate; trace Dietary Fiber; 3g Effective Carbs)
Lunch:
1 serving Keto Spinach Lunch Salad (recipe to come)(306 Calories; 28g Fat (80.8% calories from fat); 11g Protein; 4g Carbohydrate; 1g Dietary Fiber; 3g Effective Carbs)
2 cups baby spinach
2 grape tomatoes (about 1/4 ounce)
2 tablespoons feta cheese crumbles, or cotija cheese crumbles
1 ounce rotisserie chicken
3 tablespoons House Vinaigrette Dressing
1/2 tablespoon extra virgin olive oil (additional to up fat%)
Dinner:
Creamy Chicken Broccoli Alfredo (recipe to come) (755 Calories; 63g Fat (76.0% calories from fat); 36g Protein; 9g Carbohydrate; 2g Dietary Fiber; 7g Effective Carbs)
For Chicken:
3 ounces rotisserie chicken, or leftover grilled or roasted chicken
2 ounces mushroom
1 green onion
2 dashes Worcestershire sauce
1 tablespoon extra virgin olive oil
1 tablespoon chardonnay
2 ounces broccoli crowns, cooked or frozen
For Sauce:
1 tablespoon butter
1 tablespoon cream, heavy
1/3 cup Easy Alfredo a la NSNS Diet
1 tablespoon Parmesan cheese
1 ounce mozzarella cheese
For more recipes visit Fluffy Chix Cook Recipes or visit Fluffy Chix Cook's Recipe Archive!
READ MORE FLUFFY CHIX COOK RECIPES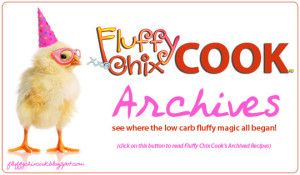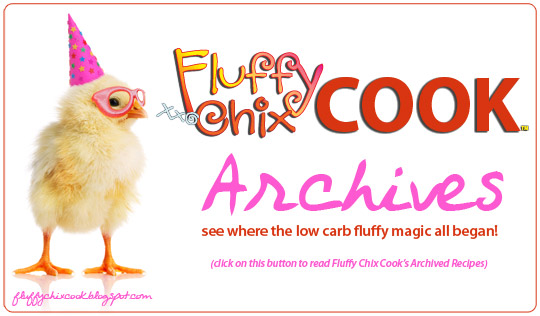 You may notice a discrepancy when adding the total carbs shown by line-item. Do not be overly concerned. MasterCook 9 rounds numbers, so when the individual recipes are combined in a daily meal, the total is calculated to include decimals points. This may result in a +/- difference of 1-2 g of carbs. The Daily Total value is the more accurate figure. Thanks and sorry for any inconvenience!
Copyright © 2014 Fluffy Chix Cook. All rights reserved.
We are not dieticians, nutritionists or medical professionals. The materials on this blog are for informational (and fun) purposes only. We do not fact check, nor do we worry about sources. Please do your own fact checking. We encourage you to look things up and check with your doctor or health care professional before acting on anything seen on Fluffy Chix Cook. xoxo