Steak and Egg Breakfast Taco – Dr. Westman's No Sugar No Starch Page 4 Meal Plan – Week 3|Day 1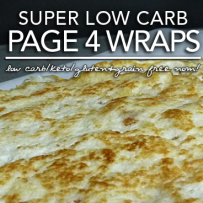 Fluffy Chix Cook serves a Dr. Westman's and Duke Lifestyle Medicine Clinic's No Sugar No Starch Page 4 Meal Plan featuring a quick and easy leftover breakfast. Page 4 Wraps work great for Steak and Egg Breakfast Tacos. Still full from breakfast? No problem, grab a small snack of cheese and pepperoni, instead. And why not enjoy a cheeseburger for dinner as part of your healthy low carb keto lifestyle?
A new week of Dr. Westman's Page 4 No Sugar No Starch Diet begins today. Each week, we make a low carb keto Page 4 Meal Plan focused around common ingredients and Lucky Leftovers. That helps keep food costs lower and virtually eliminates food waste. Every smidge gets eaten or frozen for another day. This week things are a little special. We're going back to the book and back to basics. If it "ain't" on Page 4, don't eat it!
The Fluffys are already in ketosis and have the lack of hunger advantage that naturally helps us keep quantities in check. We only eat when hungry. So although we have a "master plan" or food plan for the day, it's subject to change without notice as prescribed by our appetite. The other thing that helps with food portions and eating only to the point that hunger abates (not to the point of being stuffed), is to serve yourself smaller portions. This is very important because, if you're a member of the Clean Plate Club, as we are, it's easy to overeat without realizing. For instance, I "know" I could easily eat two Steak and Egg Breakfast Tacos. But, I also know that I am satisfied after eating only one. If I have two on my plate…they will both be eaten. So I simply use a smaller plate, make one taco, eat it slowly and savor the flavor. I make a deal with my bad self. If I'm still hungry 20-30 minutes after eating, I can go back and make a second taco.
To this day, I haven't needed to go back and make the second taco. I do make Denny two tacos…cuz you know…it's a guy thing.
Find the list of Page 4 friendly foods in Dr. Westman's publication. Cheap at amazon.com, along with his instructions.
Join fellow Page 4 Groupies in the Facebook group dedicated to following Dr. Westman's Page 4 plan. Learn more about the lifestyle and how to accurately implement it into your life.
Here's the link to the group: https://www.facebook.com/groups/DukeLowCarbSupportGroup/
My Goals For The Week:

1. Keep weekday meal prep to a minimum.

[Try to prep ahead (which I already missed cuz I didn't cook on Sunday like I should). Will try to get a couple of hours in the kitchen today to bust a move with make-ahead recipes.]

2. Keep recipes super simple and 1-2 servings only.

3. Eat ONLY until hunger is satisfied and NOT until full! (Use a small plate and serve yourself half of your normal serving size.)

(Even though the portion I computed and allowed myself is reasonable, I will try to follow my hunger and quit eating at the first sign of being full! If I'm not hungry, I will not eat and will skip the meal. The menu below represents the maximum of what would be consumed today.)
2014 | WEEK 3 | DAY 1 | DR. WESTMAN'S NO SUGAR NO STARCH (PAGE 4) DIET MEAL PLAN | BURGER NIGHT (10g TOTAL CARBS)
Breakfast
Coffee or Tea with Heavy Cream
Steak and Egg Breakfast Taco
Lunch
String Cheese
Pepperoni Slices
Dinner
1/2 Bunless Shroom Bacon Burger
with Lettuce Tomato Onion
Dessert
None
Daily Totals:  (973 Calories; 78g Fat (73.0% calories from fat); 55g Protein; 10g Carbohydrate; 2g Dietary Fiber; 8g Effective Carb)***
10 grams total non-netted carbohydrate for the day!

Breakfast:
coffee or tea and cream (103 Calories; 11g Fat (92.8% calories from fat); 1g Protein; 1g Carbohydrate; 0g Dietary Fiber; 1g Effective Carb)
2 cups decaff coffee, black, unsweetened
2 Tbsp heavy cream
Steak and Egg Breakfast Taco (275 Calories; 20g Fat (66.6% calories from fat); 18g Protein; 4g Carbohydrate; 1g Dietary Fiber; 3g Effective Carbs)
1 large egg
1 tsp extra virgin olive oil
1/2 ounce grilled rib eye
1/2 ounce cheddar, shredded
2 Tbsp cilantro
2 Tbsp mini red bell pepper
1 Tbsp Hatch Green Chile Salsa
Lunch:
cheese & pepperoni (220 Calories; 17g Fat (71.6% calories from fat); 14g Protein; 2g Carbohydrate; 0g Dietary Fiber; 2g Effective Carbs)
1 string cheese
1 ounce pepperoni slices
Dinner:
1/2 of an 8oz (raw wt 80/20) Bunless Shroom Burger on Lettuce, Tomato & Onion (478 Calories; 41g Fat (77.3% calories from fat); 23g Protein; 4g Carbohydrate; 1g Dietary Fiber; 3g Effective Carbs)
3 1/4 ounces 80/20 ground beef (cooked)
1/2 ounce Swiss cheese
1/8 cup mushrooms
1 cup iceberg lettuce
1 tomato slices
1/2 onion slice
1 1/2 tablespoons homemade mayonnaise
1 teaspoon Dijon mustard
1 bacon slice
Dessert:
none
***FLUFFY'S NOTES: You could take a look at the daily totals and say, "Oh wait a dang minute!!!! NO WAY am I gonna starve myself on this diet. (And yes, I just said a four-letter word: diet.) But the point is…that this is 3 weeks in on a ketogenic diet and chances are, if you are TRULY eating only when hungry and eating to hunger, that you MAY have days that look like this! Could I have eaten more? Why, sure. I had 10 more grams of carbs I could have used, I could have upped my veggies and upped my protein and upped my fat. But I was perfectly satisfied.
Many of the skinniest people we know eat very little and only eat when hungry. And when they do eat, they eat tiny portions. So although I'm not advocating anorexia, I'm advocating that you let your hunger be your guide. When you do that, you will have some days where you will eat close to 2000 calories, or more, and all 20g total carbs! There will be some days when you'll hardly feel like eating. Relax. There is no "what's next." Do your best to embrace and relax "into" this diet so that it does feel natural. Because, once it "feels right" to you, that's when it transmutes from diet to lifestyle. And a lifestyle doesn't have one "set" amount and times of eating. It ebbs and flows, peaks, and valleys. Today was an easy winding valley with a river.
By the way, here's a set of reasonably priced heavy duty nonstick pans we love to use to make the Page4 Wraps. You'll go nuts trying to make them without a good nonstick pan. We use the smallest one for the wraps. It's a PFOA free nonstick pan made of enameled cast iron.
For more recipes visit Fluffy Chix Cook Recipes or visit Fluffy Chix Cook's Recipe Archive! Be sure to visit the Page 4 Meal Plans and the RECIPE INDEX!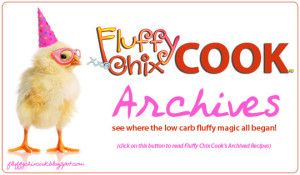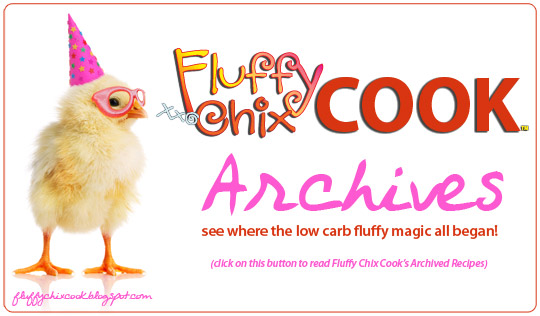 You may notice a discrepancy when adding the total carbs shown by line-item. Do not be overly concerned. MasterCook 9 rounds numbers, so when the individual recipes are combined in a daily meal, the total is calculated to include decimals points. This may result in a +/- difference of 1-2 g of carbs. The Daily Total value is the more accurate figure. Thanks and sorry for any inconvenience!
Copyright © 2014 Fluffy Chix Cook. All rights reserved.
We are not dieticians, nutritionists or medical professionals. The materials on this blog are for informational (and fun) purposes only. We do not fact check, nor do we worry about sources. Please do your own fact checking. We encourage you to look things up and check with your doctor or health care professional before acting on anything seen on Fluffy Chix Cook. xoxo