Sugar Free Mint Sauce – Low Carb Keto | Gluten Free Crosse & Blackwell Copykat Recipe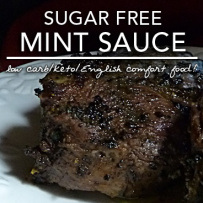 Did you grow up eating lamb with mint sauce? Or maybe you miss Crosse & Blackwell's famous mint sauce on roasts of all types and are looking for a healthy low carb keto, sugar free version that won't spike your blood sugar or make your insulin go nuts? If you want Sugar Free Mint Sauce, then Fluffy Chix Cook has the answer, all of the big flavor and none of the guilt!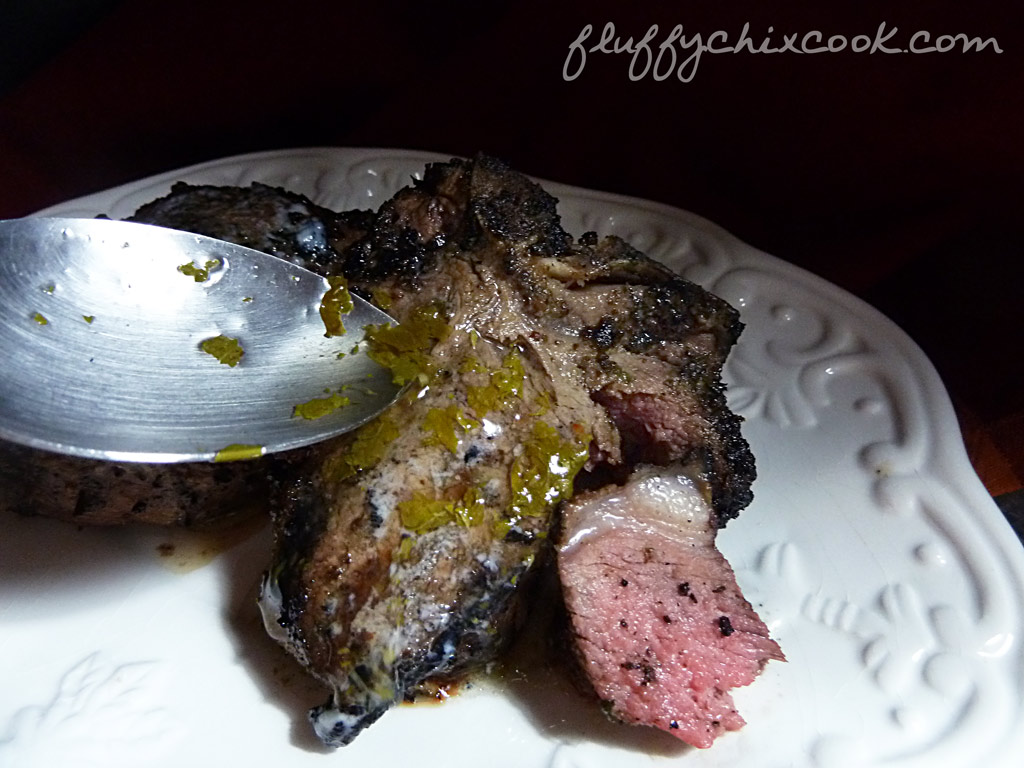 We did not grow up eating lamb. In Texas, lamb was scare and a prized commodity. We grew up eating lots of venison, fish and fowl and other wild game, and of course, we splurged with a little beef, chicken and pork. On the Texas Gulf Coast seafood ruled and was cheap and plentiful. We used to buy shrimp a hundred pounds at a time right off the shrimp boats and trek them home in ice coolers. We'd sit out on the back patio and head them, then store in salt water bricks in the freezer, and we could take home all the blue crab we wanted for free. Oh, those were the days!
But lamb was a delicacy—in fact, I only remember eating leg of lamb just one once or twice in my life prior to adulthood. But oh my, the first time I had lamb chops, I was hooked and a true believer! Any cut of lamb is tender by virtue of the age of the animal at slaughter, but lamb chops (both rib and loin) are meltingly, fall off the bone tender. Shoulder chops, while divine and tasty, have a little more chew factor, but still work in a hot, dry heat cooking method as well as in braising, tagines and stews.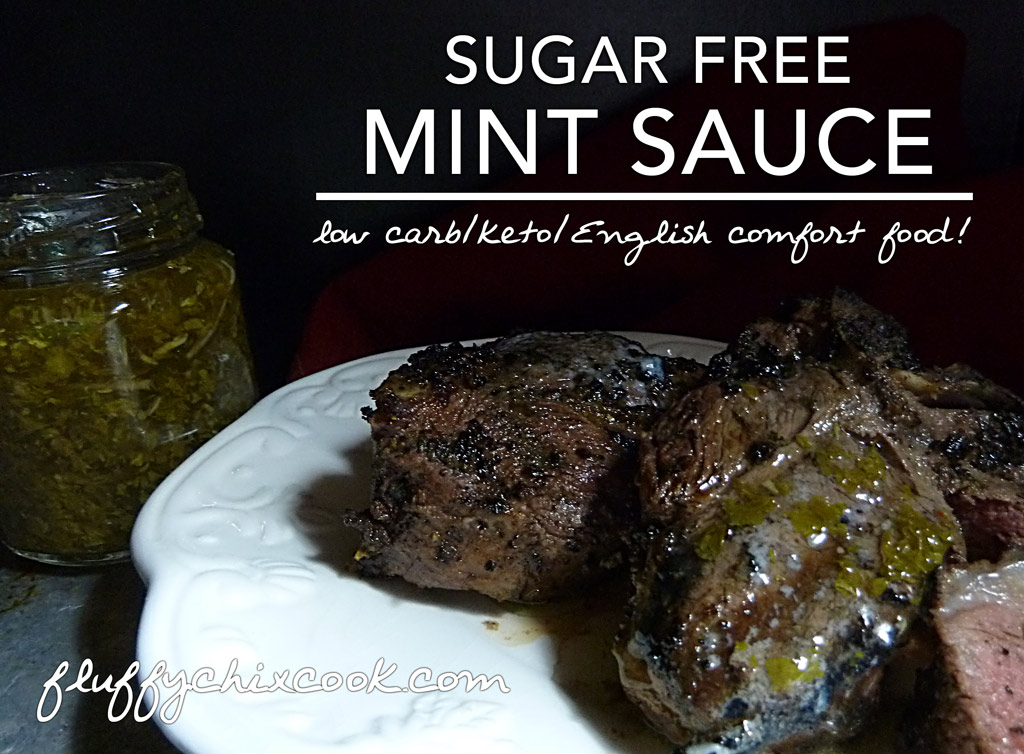 So when I saw lamb loin chops on sale I knew they must be part of a Fluffy dinner, forthwith. What better way to elevate and spotlight the brilliance of simple lamb loin chops than with a traditional English mint sauce? I've long been a lover of Cross & Blackwell's products (and no, I do not read the label, I do a Dorothy). But one thing I do know is that C/B's mint sauce is sweet, so we know automatically that it's packed in sugar.
What's a low carb keto Fluffy to do? Well de-carbify it of course, schwa!!!! And it was remarkably easy. I consulted the best English mama's recipes for old-timey mint sauce and concocted a hybrid, de-carbified version. If it's something the Brits know, it's mint sauce!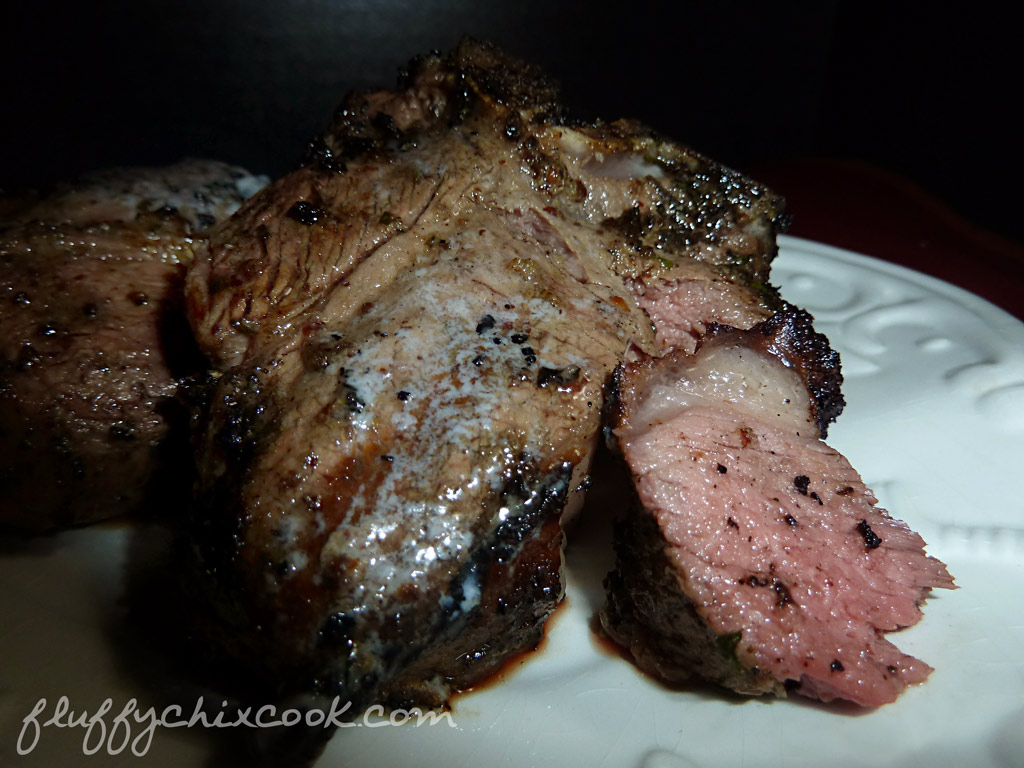 The Sugar Free Mint Sauce turned out lovely and is a winner. And because it's sugar free, it's safe for diabetics and low carb ketoneers one and all, with only 0.29g of total carbs per tablespoon. Just serve it on the side in a little bowl and dip each bite into it or lightly shake it over the lamb. It gives the lamb an umami, more-ish feeling (thank you Jamie Oliver for "more-ish").
We hope you will try the Sugar Free Mint Sauce and share with your friends. Please come drop up a comment and let us know how it worked for you!
A Note About Distilled White Vinegar
Some distilled white vinegars are distilled from GMO corn. If you're concerned about GMO sources in your food supply, then it's better to look for organic and non-GMO sources.
Spectrum Naturals makes a good distilled white vinegar
distilled from non-GMO corn and rye. It is labeled gluten free, just be aware that some allergists consider rye a cross-allergy with wheat, so tread carefully. Heinz, which labels their distilled white vinegar as natural and GMO-free, had a false advertising lawsuit filed against them for marking their vinegar as "natural" and "GMO-free" when it actually used GMO corn for its distillate source.
Sugar Free Mint Sauce – Low Carb Keto | Gluten Free Crosse & Blackwell Copykat Recipe
A low carb keto friendly vinegar based mint sauce that keeps for months—if it lasts that long. It's the bomb on lamb but also great on roast pork and any type of game meat.
Ingredients
Instructions
Take 3/4 of the mint leaves and the distilled white vinegar and pulse in food processor or blender until very finely chopped. Add a pinch of salt to remaining mint leaves and finely chop by hand. These will add texture.
Bring water to a boil in a small, nonreactive saucepan (stainless steel or Pyrex). Add mint (pureed and hand chopped) to the boiling water. Stir in remaining vinegar. Remove from heat, cover and steep for 15 minutes. Don't open the lid! Add liquid sweetener of your choice, to taste. If desired, you may thicken the sauce very slightly with glucomannan or your favorite low carb thickener. Slowly dust thickener onto surface and whisk like crazy to combine.
Pour mint sauce into sterilized glass jar or bottle. We love tall, narrow vinegar-type bottles! Sauce will keep 2-3 months in the fridge.

(Optional Step)

sterilize bottle in boiling water for 10 minutes. Water needs to go both inside the bottle and the bottle must be completely submerged. Don't forget to sterilize the cap! (Metal caps work best.) Remove bottle, drain out water and let it dry for a few minutes. Pack bottle while still warm and seal well to create a vacuum as the mint sauce cools.)
Notes
NOTES Low Carb Sugar Free Mint Sauce is inspired by high carb recipes for a vinegar-based, traditional English mint sauce. Crosse & Blackwell makes a super-duper sauce, but it's packed with wads of sugar. This is a stab at a copykat recipe. We think it's purty good. (Texan for awesome!) It gets better the next day (or at least an hour or two later).
Serving Ideas Serve with your favorite protein. We love this on lamb and beef roasts or chops.
Nutritional Information
Per Tablespoon (24 tbsp yield): 1 Calories; 0g Fat (0.0% calories from fat); 0.08g Protein; 0.29g Carbohydrate; 0.21g Dietary Fiber; .0.08g Effective Carbs
Copyright © 2012 Fluffy Chix Cook. All rights reserved.
http://fluffychixcook.com/sugar-free-mint-sauce-low-carb-keto-gluten-free-crosse-blackwell-copykat-recipe/
Copyright © 2016 Fluffy Chix Cook. All rights reserved.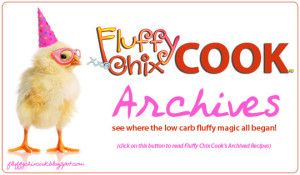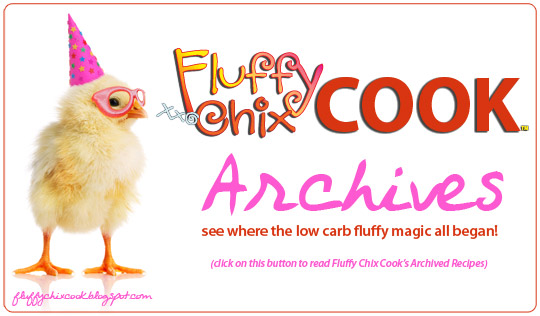 Copyright © 2010 Fluffy Chix Cook. All rights reserved.
We are not dieticians, nutritionists or medical professionals. The materials on this blog are for informational (and fun) purposes only. We do not fact check, nor do we worry about sources. Please do your own fact checking. We encourage you to look things up and check with your doctor or health care professional before acting on anything seen on Fluffy Chix Cook. xoxo