The Ketogenic Cookbook – Book Review | Fluffy Chix Cook Awards: Wings UP!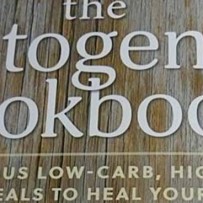 Join Fluffy Chix Cook as they review a great low carb ketogenic book, The Ketogenic Cookbook|Nutritious Low Carb, High Fat, Paleo Meals to Heal Your Body. The 384 page cookbook, keto manual is filled with great recipes, meal plans, no nonsense keto info and help from Jimmy Moore and Maria Emmerich, noted ambassadors and ketogenic advocates.
The Fluffys feel like Christmas came early—in July! This week we received three different groups of low carb keto "thangs" to review. And holy smokes! One of the "thangs" is actually a most amazing cookbook and keto manual from Maria Emmerich, noted ketogenic advocate and counselor, cookbook author, photographer, and food blogging mastermind behind Maria Mind, Body, Health (aka Keto Adapted). Maria teamed up with Jimmy Moore of Livin' La Vida Low Carb website. Most of you know Jimmy is an ambassador for the LCHF (low carb high fat) movement sweeping the globe. Jimmy keeps his blog and is also a noted, best-selling author and pod caster.
They created The Ketogenic Cookbook | Nutritious Low Carb, High Fat, Paleo Meals to Heal Your Body, but don't let the name fool you. It is SO much more than a simple cookbook. The preliminary pages give you a brief history and overview of the ketogenic diet which explains why keto diets are so useful in facilitating weight loss and help mitigate several diseases of civilization. Many believe diseases such as Type 2 diabetes, CHD (coronary heart disease), cancer, Parkinson's, Alzheimer's, epilepsy, and auto immune diseases such as asthma, thyroid disease, MS (multiple sclerosis), and others can be put into remission or cured by following a real food, low carb, moderate protein, high fat diet that's characterized by the ketogenic diet.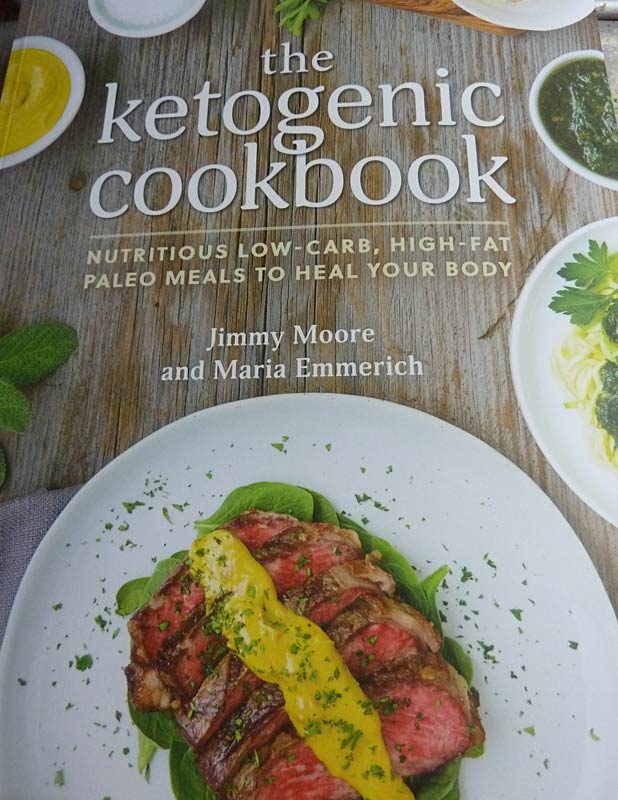 Maria and Jimmy produced this gorgeous cookbook, which contains over 150 recipes, a clear history on the keto diet, cooking tips, food tricks, tips on picking the most nutrient dense foods, and it even includes meal plans for many different genres of a ketogenic diet! Score! It's a 384 page compendium of low carb, ketogenic muscle! We adore that they included an index in the back of the book made up with thumbnail images of the recipes! That way you can instantly identify which recipe you want to make tonight. Cuz remember, we eat with our eyes first!
Yes, remember! We eat with our eyes first! And boy is this book a gorgeous book. It's so substantial! It's an 8 1/2  X 11-inch format and is over an inch thick. Each recipe is fully photographed, and the type is large enough for this over-50 fluffy chix to read without bifocals! Yippee! You'll find gorgeous recipes and photos of a wide array of low carb keto dishes from comfort food to wild catch. It's easy to see Maria's influence in the book, as a lover of the outdoors—sportsman (hunting and fishing). We personally can't wait to make either the gravlax or the pickled canned salmon!
We will be making a recipe from the book and will be back to update the Fluffy Chix review of The Ketogenic Cookbook, so be sure to check back frequently to see if it the recipe review posted! The Fluffys are extremely pleased to give it 2 very exuberant, fluffy wings up! And we highly recommend you add this helpful ketogenic tool to your low carb library immediately. 🙂
Go buy The Ketogenic Cookbook by Jimmy Moore and Maria Emmerich today!
(Disclaimer | The Fluffys received this free cookbook for review. No cash changed wings. Our thoughts are our own and are not influenced by the freebie. We'd tell ya if this stunk up the place. But it doesn't! It's swell and we highly approve it!)
We are not dieticians, nutritionists or medical professionals. The materials on this blog are for informational (and fun) purposes only. We do not fact check, nor do we worry about sources. Please do your own fact checking. We encourage you to look things up and check with your doctor or health care professional before acting on anything seen on Fluffy Chix Cook. xoxo