Mile High Keto Cornbread – Low Carb Keto & Gluten Free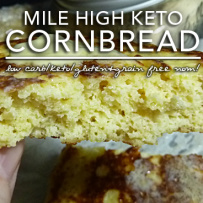 If you're like most of us low carb ketoneers, you sometimes pine and miss cornbread, especially in the cold months, and around the holidays. Fluffy Chix Cook developed a new low carb cornbread mix that's super simple to keep on hand. Making an individual mini cornbread takes less than 5 minutes, start to finish! And it's low carb, gluten and grain free, sugar free and won't send your blood sugar into a tail spin…hello diabetics, do you hear us? Thah crahps ah sayuved!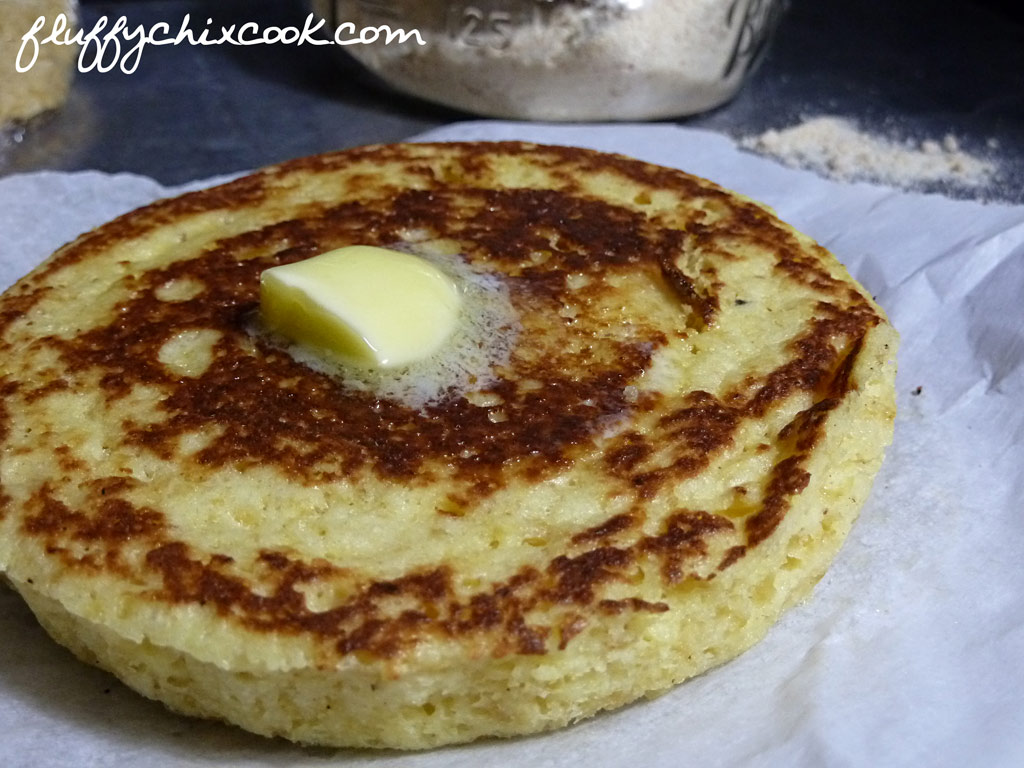 If you are from the South, chances are you were raised on cornbread—that high carbage, grainy, naturally sweet, golden, skillet bread full of fragrance and warm substance. I still remember my WaWa's cornbread, crispy on the outside, tender with just a tiny bit of chew on the inside, drenched in melted butter. You could taste the faint hint of bacon grease used to oil the fiery hot cast iron skillet.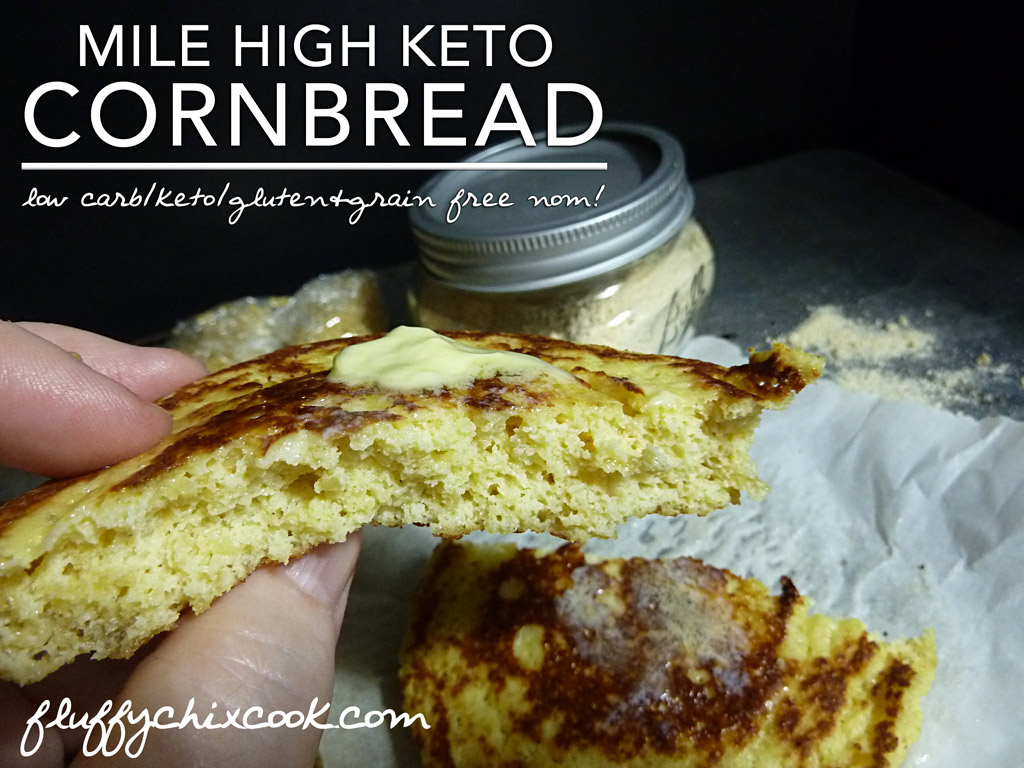 Almost every Southern family puts their personal spin on cornbread. Some like it sweet, others savory. Still others (ahem, Texans) insist on gilding the cornbread lily with onions, jalapenos, sweet corn kernels, garlic and cheese. Hold me, please. I need a moment.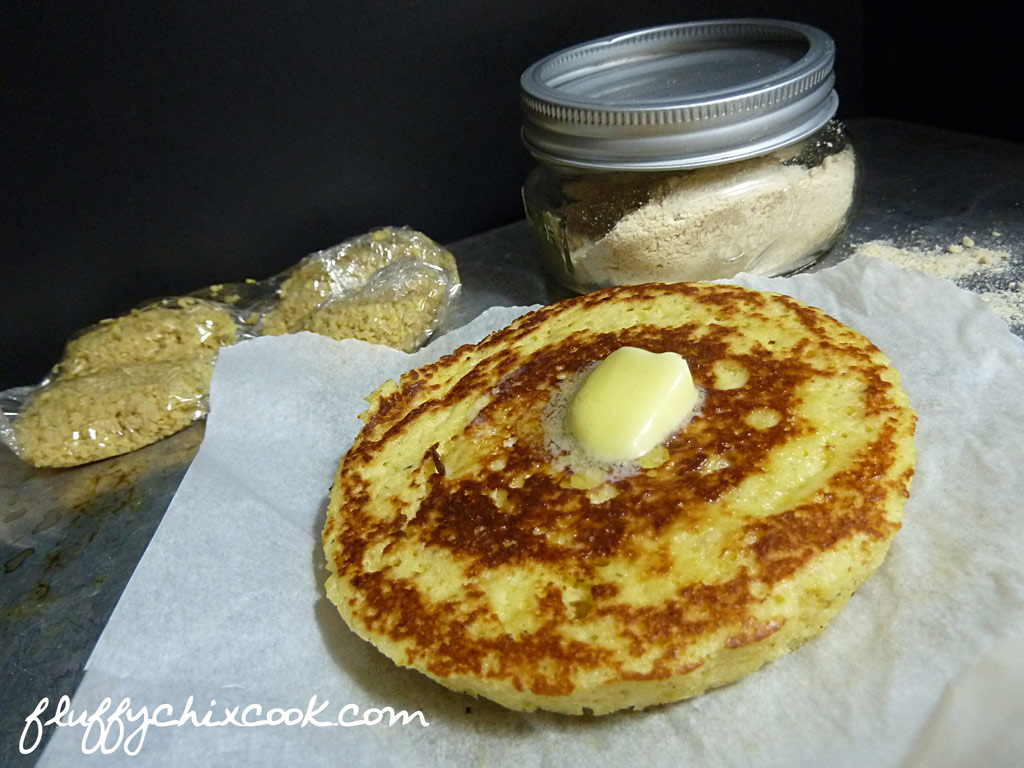 But if you're a bonafide low carb keto warrior, you know cornbread is off the low carb table in ANY variation. Or issssss it? The Fluffys developed a recipe many years ago, in the recipe archives,  that used baby corn (super low carb 2g net carbs per 1/3 can) and Mexican hominy (supposedly super low carb based on the "Mexican" hominy variety having magical qualities other varieties did not possess). It was dense, corny and crazily low carb delicious! But sadly, we broke up with Juanita when we heard she was a lying liar that mislabels her products! *sob* Our insanely low carb cornbread suddenly wasn't so insanely low carb.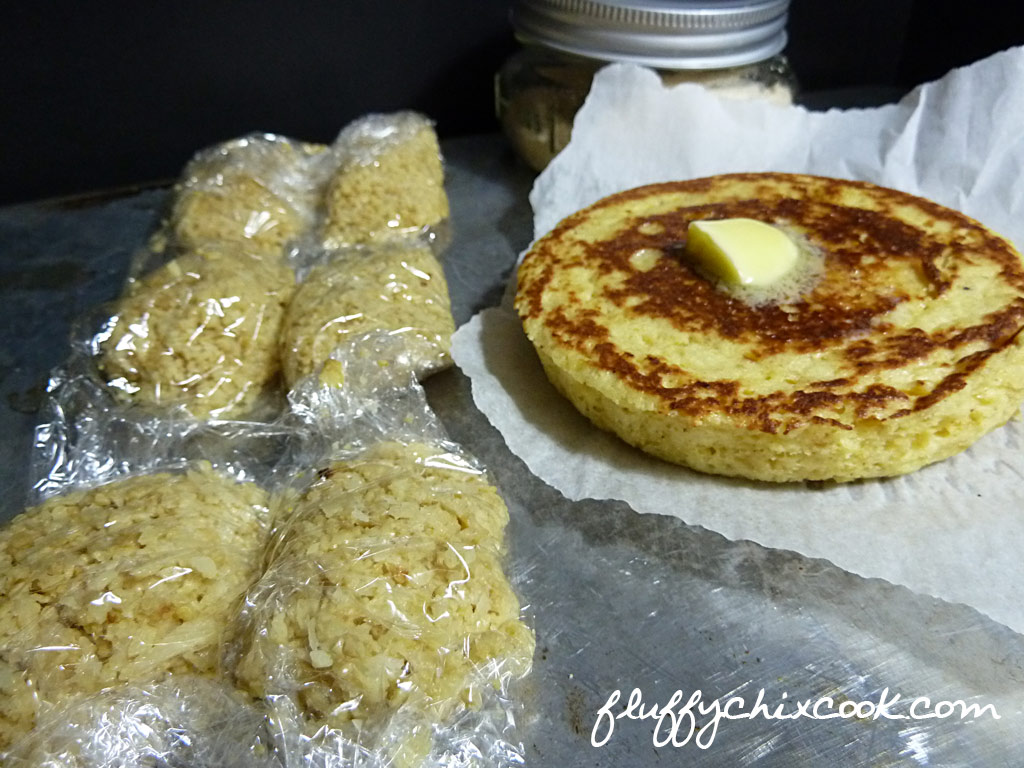 And after mourning, it took me until now to figure out a way to make cornbread again. Thanks to my great pal, Pam Eldridge Stahl for the advice about roasting baby corn before processing it into a meal. It adds depth of flavor and increases corn-itude. But, and there is always a "but" in the crowd. If you want this to taste super-duper cornbready, you're gonna have to do one of two things: buy the corn extracts and keep them (they're super concentrated and should last a year), OR use 2 tbsp of popcorn in the Mile High Keto Cornbread Mix. Gasp! Yes, it DOES add to the carbs. It makes each piece maybe 3-4g Effective Carbs instead of 2g EC. We just grind the popcorn in a clean coffee grinder until medium coarse. But honestly? We use the extracts to boost corn flavor and keep the carbs as low as humanly possible.
Once again, the microwave makes this bread rise better, but if you must, feel free to bake in a 350 degree oven until golden brown and done throughout (start checking at 12 minutes). The beauty of this recipe really lies in the MHK Cornbread Mix. Make it up in bulk, then simply make a mini cornbread any time you jones for one. Just like the Mile High Keto Biscuit Mix, this low carb keto cornbread mix is versatile and can be used many ways. We LOVE it as a topping on Texas Chili, baked until crispy and golden with a molten hot chili center!
Here are our favorite ramekins. Perfect for so many different things, but the Fluffys use them for all sorts of things from microwave breads, to hamburger buns, to mini cornbread! They're super sturdy, can go from freezer to oven, and clean up easily.
This cornbread works great as a stand-alone side to any Southern comfort meal, but it's also great as an ingredient in complex recipes such as Thanksgiving dressing. What kind of dressing did you eat growing up? Did you're family eat "bread" dressing, "cornbread" dressing or a hybrid? My people are hybrids. We do ½ and ½ and it's divine. Now there is a low carb option. Look for WaWa's Dressing recipe, coming soon! Here's the old one from the archives, but we will be updating it this week. And in case you need the Fluffy's TNT turkey stock recipe for gravies, basting and dressing, you can find it here.
Mile High Keto Cornbread - Low Carb Keto & Gluten Free
Rich Southern style cornbread tastes amazingly close to the original high carb version. Freezes great and reheats well!
Ingredients
Instructions
Drain and squeeze extra moisture from a 15oz can Roland Baby Corn. Toss baby corn with olive oil, butter, or bacon drippings. Roast on 450° until golden and browned (about 35 minutes). Place in food processor and pulse until ground into a very fine, moist meal. Portion onto sheets of plastic wrap, 2 tablespoons per portion. Fold plastic over mounds and press down like a plastic ravioli. Roll sheets up and store in a B/T (Bag n' Tagged) zip top bag in the freezer. When you want to make cornbread, simply pop out a 2 tablespoon portion and defrost, then proceed with recipe.
Combine all ingredients except bacon grease in a small bowl and mix with a spatula until smooth. You could also throw it into a magic bullet and whiz and go! Batter will look like a thick cornbread batter!
Place bacon grease in a microwave safe dish with a 3 3/4-inch diameter. Nuke 10 seconds to melt grease. Smear it evenly on bottom and sides of dish. Pour batter into the dish. Nuke for 1 minute 10 seconds. Remove and turn dish upside down into a preheated, dry, nonstick pan. Gently lift dish out of pan and release the cornbread. Pan toast cornbread until golden on both sides, in the dry pan (about 60-90 seconds per side). Toast on medium high heat. Remove and serve immediately to great cheers!
Notes
This recipe is for all of you who are allergic to nuts and can't use almond flour! There are a lot of ingredients but it's well-worth the effort to put this moist cornbread together. The texture and taste is amazingly close to the high carb version. It freezes great and reheats very well. The corn flavored extracts are carb free, according to the manufacturer. They aren't totally necessary, but do add to the corn experience. Baby corn, even roasted, doesn't come across as "super corny." Also, the texture is best on this cornbread when eaten immediately after pan toasting.
After making the roasted corn meal and freezing it, this Mile High Keto Cornbread comes together in about 5 minutes!
I use 3 recipes of this cornbread to make WaWa's dressing and it tastes so close to the real thing!
Serving Ideas Serve slathered in butter with any down home Southern main dish or vegetable. Great with a bowl of turnip greens and country style ribs.
Nutritional Information
Per Servings: 313 Calories; 28g Fat (81.2% calories from fat); 9g Protein; 5g Carbohydrate; 3g Dietary Fiber; 2g Effective Carbs
Copyright © 2014 Fluffy Chix Cook. All rights reserved.
http://fluffychixcook.com/mile-high-keto-cornbread-low-carb-keto-gluten-free/
Copyright © 2016 Fluffy Chix Cook. All rights reserved.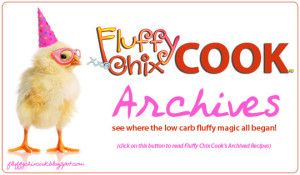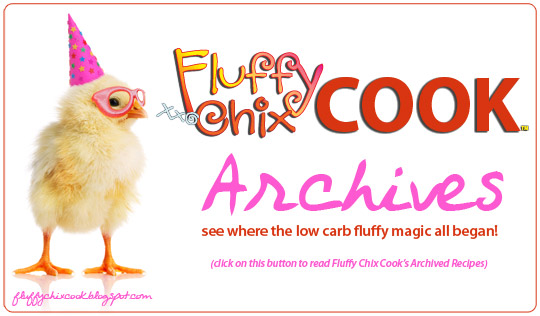 Copyright © 2010 Fluffy Chix Cook. All rights reserved.
We are not dieticians, nutritionists or medical professionals. The materials on this blog are for informational (and fun) purposes only. We do not fact check, nor do we worry about sources. Please do your own fact checking. We encourage you to look things up and check with your doctor or health care professional before acting on anything seen on Fluffy Chix Cook. xoxo